Are you currently seeking new golf irons but feeling uncertain about where to begin?
You've visited your nearby golf store, gazed at the array of irons on display, and questioned which ones would suit you best. On one hand, your inner pride leans towards the sleek, precision blades, yet your practical side leans towards a more forgiving choice that enables straight and powerful shots.
After careful consideration, you've settled on the TaylorMade Stealth Irons. However, before finalizing your purchase, you're eager to hear about the firsthand experience of someone who has tested them out. This is where we come in…
The TaylorMade Stealth irons are for the high handicap player looking for high launch, faster ball speeds and maximum forgiveness. This is all accomplished while still keeping a traditional forged feel. 
This article aims to assess the performance of the TaylorMade Stealth irons in terms of sound, appearance, feel, forgiveness, and distance.
We will analyze their advantages and drawbacks, discuss the available stock shaft choices, and ultimately provide our concluding advice on the suitable audience for these irons and whether they are a worthy purchase.
TaylorMade Stealth Irons
Debuting in 2022, TaylorMade introduced the Stealth product line, which gained notable attention due to the pioneering carbon faces featured on their woods. Despite the irons' overshadowed status, they stand out just as impressively as the woods, if not more so.
The Stealth irons feature a design focused on enhancing gameplay, aiming to generate a mid to high trajectory with moderate spin and a neutral shot shape. This objective is achieved while maintaining a traditional and consistent feel.
Moreover, the Stealth irons offer an alternative in the form of the Stealth HD, a higher-launching and draw-biased head option.
For right-handed players, the Stealth irons are available from the four iron to the lob wedge, while left-handed players can access them from the four iron to the sand wedge.
Sounds, Look and Feel
When considering the purchase of any iron set, it's crucial to factor in sound, appearance, and tactile sensation. These elements provide vital feedback, aiding in the assessment of each shot's execution.
The Stealth irons boast a classic game improvement design, characterized by a larger head compared to blade-style alternatives. However, our team's impression was that the head's size didn't feel overpowering, and the offset and top line contributed to an aesthetically pleasing look.
In terms of sound and touch, the Stealth irons were remarkably impressive. Unlike certain other game improvement irons we've tested, which often exhibit muted acoustics and a somewhat unresponsive feel, the Stealth irons offered a different experience.
The sensation and sound resembled that of striking a forged head. This effect can be attributed to the integrated ECHO dampening system present in each head, effectively absorbing undesirable vibrations.
Forgiveness
Choosing game improvement irons over players' clubs is often driven by the desire for forgiveness, and much like the woods within the Stealth lineup, TaylorMade has certainly delivered on this aspect with these irons.
---
Incorporating an entirely fresh back-cap design, the Stealth irons feature an expansive sweet spot that covers the most common impact zones for amateur players.
---
Additionally, TaylorMade successfully redistributed weight from the toe due to this innovative design, positioning it lower on the face. This strategic adjustment aids players in achieving higher launch angles and sustained ball flight for their shots.
Through our team's rigorous testing, it became evident that this particular iron set ranks among the most forgiving we've ever evaluated.
The disparity between off-center hits and well-struck shots was notably minimal, aligning perfectly with the desired characteristics of irons within this performance category.
Distance
Thanks to the back-cap design integrated into the Stealth irons, TaylorMade effectively achieved a lower center of gravity, facilitating players in launching shots higher and over longer distances.
---
Furthermore, this innovative design led to enhanced face flexion and accelerated ball speeds, especially beneficial for individuals with lower swing speeds.
---
During our testing, the impact of increased distance became strikingly evident. Our team comprises players spanning a broad spectrum of swing speeds, from slow to high.
Remarkably, each member experienced distance gains when compared to other clubs we've assessed, all thanks to the advancements offered by the TaylorMade Stealth irons.
TaylorMade Stealth Irons Key Technologies
The TaylorMade Stealth irons incorporate several advanced technologies designed to deliver exceptional speed, distance, launch, feel and forgiveness.
These include a Cap Back Design, Echo Damping System, Fast Forgiving Face, and Thru-slot Speed Pocket.
Each innovation works together to optimize every aspect of the Stealth irons' performance.
Cap Back Design with Toe Wrap Construction
The Cap Back Design incorporates a new inverted cone shape on the back of the iron head.
This shifts weight lower and more inward, optimizing launch and flight. The Toe Wrap Construction also supports lowering CG for high launch.
Fast Forgiving Face with Progressive Inverted Cone Technology
The fast forged face utilizes TaylorMade's Progressive Inverted Cone Technology, which increases face flexion across the hitting area.
This leads to faster ball speeds and greater distance on off-center hits.
ECHO Damping System
TaylorMade's ECHO Damping System integrates a thermoplastic elastometer layer to tune acoustic properties.
This absorbs unwanted vibration at impact, resulting in a forged iron like sound and feel.
Thru-Slot Speed Pocket
The Thru-Slot Speed Pocket is a slot located near the sole of the irons. It allows the face to flex more efficiently at impact, producing higher ball speeds, launch, and distance.
Stock Shaft Options
KBS Max 85 MT Steel
Fujikura Red Graphite
To view details on each of these shafts, CLICK HERE.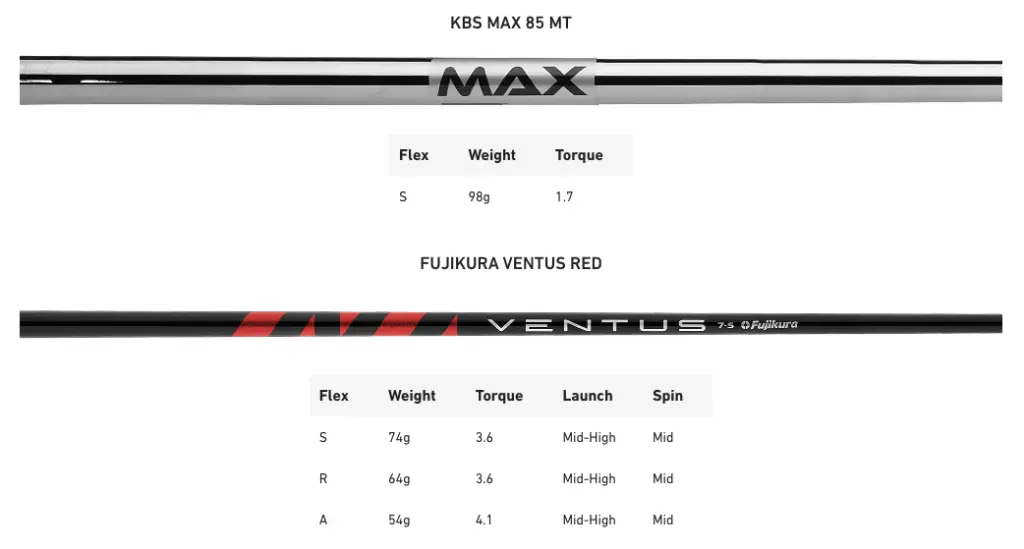 Stealth Irons Specifications
The TaylorMade Stealth irons are available in a progressive set makeup from 4-iron through lob wedge, featuring lofts ranging from 18.5° in the 4-iron up to 59° in the lob wedge.
This allows for optimal gapping and distance control throughout the set. The lies angle steadily increases from 61.5° in the 4-iron to 64.5° in the wedges to promote proper impact and launch.
---
Offset decreases from 5.8mm in the 4-iron down to 1.5mm in the lob wedge, suiting the needs of a wide range of handicaps. Bounce angles also progress through the set, starting at 2.0° in the 4-iron and building to 12.5° by the lob wedge.
---
Available swing weights, dexterities, and lengths further allow for ideal club tuning.
Key specifications are outlined in detail in the table below: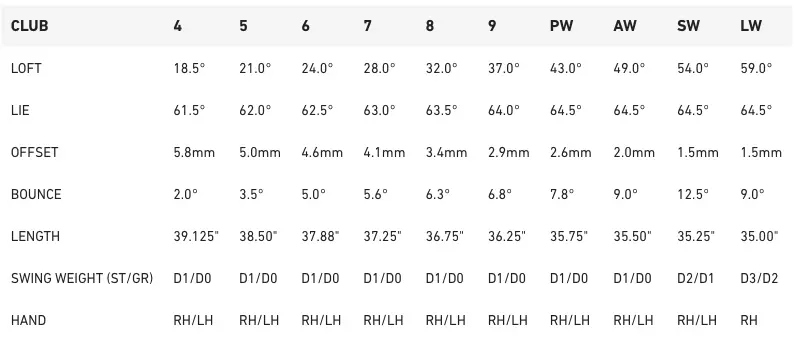 TaylorMade Stealth Irons Pros and Cons
Pros 
Top-level sound and feel for a game improvement iron
Feels like you are hitting a blade
Not too bulky for a game improvement head
High launch
Fast ball speed
Top-level forgiveness
Cons
Too inconsistent on distance control for players with fast club head speeds
Launches the ball too high for some players
Hard to shape the ball, likes to hit the ball straight (not the worst problem to have)
Recommendation
The question that arises is whether we recommend investing in the TaylorMade Stealth irons. As always, this decision hinges on several significant factors, given that not all club sets are universally suitable for every player.
The Stealth irons prove to be an excellent choice for individuals with a high handicap who seek greater distance, heightened ball speeds, a bias towards a neutral shot shape, and a preference for traditional sound and feel.
The significance of the traditional sound and feel cannot be understated here, as many game improvement irons available lack substantial impact feedback and often produce a somewhat hollow sound—unlike the Stealth irons.
---
However, for those with lower handicaps who prioritize precise shot shaping and distance control, the Stealth irons might not align with their preferences. We've observed that players with faster clubhead speeds might encounter challenges in managing distance control due to the irons' fast performance.
---
Just like the broader Stealth product range, these irons are truly exceptional, exemplifying TaylorMade's consistent excellence. If you find yourself fitting into the high handicapper category and possess a slower to moderate clubhead speed, the Stealth irons undoubtedly merit a spot in your golf bag.