If you hit the golf course more than once a month and you want to improve your score while gaining consistency in your performance, then effective course management is key.
A GPS device is a reliable tool to get the job done. It allows you to accurately figure out yardage distances to greens and hazards. It can even track your club distances, shot distances, and scores — all of which sharpens your on-course skills.
Today, we're reviewing the 6 best golf GPS watches and handhelds to give an idea of the most effective course management tools out there.
We're also sharing a detailed buying guide to help you find the ideal GPS for your golfing performance needs. Let's dive in!
Our Reviews of the Top 6 Golf GPS Watches and Handhelds
After dozens of hours of researching and testing, we've decided on the following 6 options as our top picks for the best home golf GPS watches and handhelds on the market.
1. Approach Series S62 GPS Watch by Garmin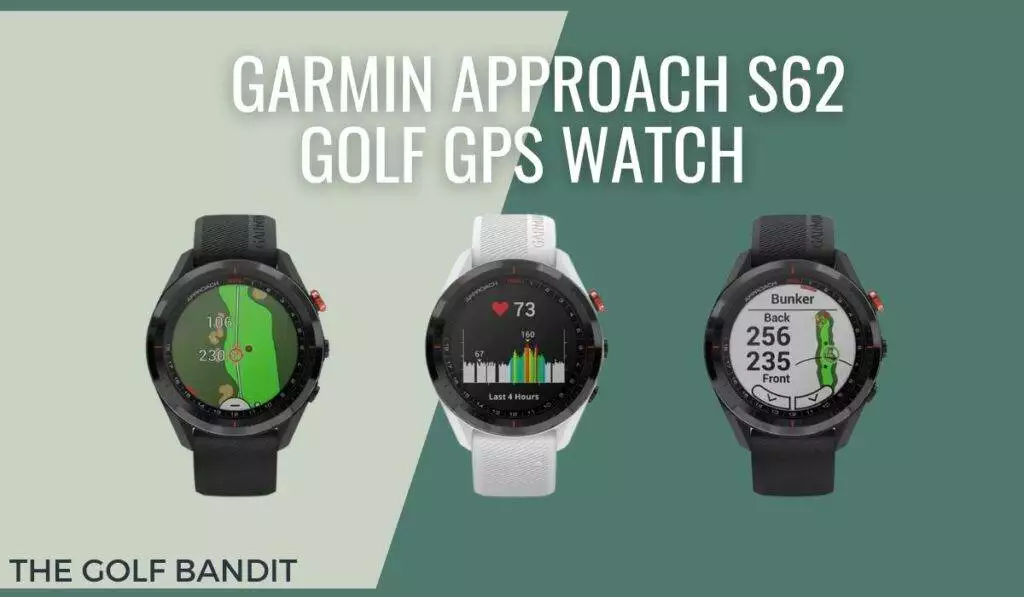 First up, we're taking a closer look at the S62 golf GPS watch from Garmin. It's part of the company's Approach series, leading the range in both quality and performance.
Despite its hefty price tag compared to most golf GPS watches, the Garmin S62 is one of the brand's most popular models thanks to a load of valuable features.
For starters, it has a Virtual Caddie that creates a database for your average distances using the clubs in your bag. Then, it recommends the best club for any shot and estimates its landing area based on wind speed and direction.
We earn a commission if you click this link and make a purchase at no additional cost to you.
Thanks to the PinPointer feature, the Approach S62 GPS watch tells you the direction of the pin to better guide blind shots.
Additionally, you can view par hole distances, access a colored CourseView map, and see the true green shape with pin location for greater accuracy.
It's not free of faults though. Glitches and freezes may happen from time to time, especially after breaking your phone's Bluetooth range and coming back.
Also, the look of this watch's hole map graphics could use an update.
Pros
Supports interchangeable QuickFit bands
Watch faces are fully customizable
Very stylish on and off course
GPS mode lasts up to 20 hours (smartwatch mode lasts up to 14 days)
Cons
Sometimes you need to restart the watch after reconnection
On the expensive side
From SkyCaddie, we have one of its best-selling golf GPS watches; the LX5. Not only does this beautiful tool house a stunning display, but it's also very fast and accurate.
The screen is 1.39 inches, touch-controlled, and colored. It's the largest on the market with bright and clear AMOLED visibility even under direct sunlight.
By simply sliding a cursor, the LX5 golf GPS watch allows you to get distances to the front, back, and any other location you want on the green. You can also view the true shapes of greens, rotated to match your approach angle.
What's more, this golf GPS watch uses Dynamic RangeVue to help you play with the most suitable club for every swing.
Other than yardage arcs overlaying landing areas, it also indicates hole handicaps and tracks stats by round and hole.
The SkyCaddie LX5 is equipped with a speedy multi-core processor, heart rate monitor, step counter, alarm, timer, and more. You can also choose between an analog or digital clock view.
We don't appreciate that the LX5 isn't very versatile off-course as it lacks phone notifications, predefined workouts, and other typical fitness/smart features that competitor brands include in their golf GPS watches.
Also, its touchscreen could be more sensitive and its battery life isn't as impressive as some of the options on today's list.
Pros
Large bright screen with vivid details
Highly accurate distance measurements
Reliable scoring function
Comes with a prepaid 3-year SkyGolf 360 membership
Cons
Doesn't offer many features as a smartwatch away from the course
Battery life needs significant improvement
When it comes to handheld golf GPS devices, the Approach G10 is one of the best options you can get your hands on.
It's easy to use, accurate, and reliable. Not to mention, its look is super sleek and its price is quite affordable so even golfers on a budget can work on their swing and manage courses without worrying about their wallet.
Oh, and if you're a fan of the Garmin S10 watch (check out its review below) but prefer handled models to watches, the G10 is basically the handheld form of the S10.
Within a conveniently compact design, the G10 comes with more than 41,000 preloaded courses (updates roll in with extra courses). Its display is only 1.3 inches and yet it's easy to read under the sun.
In addition to providing distances to the center, front, and back of the green, the Garmin G10 also measures distances for doglegs and hazards.
The Green View feature shows you the exact outline of the green and supports pin placement for a precision boost.
This handheld golf GPS also keeps track of your score and tells you the distance traveled on and off the course thanks to the built-in odometer.
It even automatically detects the course based on your location, lets you upload/share your stats on Garmin Connect, and has a decent battery life of up to 15 hours.
One thing we don't appreciate besides the less-than-clear user guide is the special charger that this GPS uses. We wish Garmin would switch to a standard USB adapter.
Pros
Accurate yardage measuring
Affordable price tag
Compact, sleek design
Durable construction
Cons
The user manual could be more helpful
The screen is a bit too small for some golfers
The Swami 6000 is one of IZZO Golf's best-selling handheld golf GPS models.
Its design is straightforward with a classic look while its performance is fast and accurate. Not to mention, the Swami 6000 is reasonably priced, highly rated, and easy to use.
The operation of this handheld golf GPS revolves around 4 modes: shot distance, hazards, green, and scorecard. It measures distances to the front, middle, and back of the green as well as distances for doglegs and hazards.
The Swami 6000 also tracks putts per round and green in regulation. Additionally, it supports automatic hole advancement and comes with more than 38,000 preloaded courses from all over the world.
Once you turn it on, it automatically determines the course you're playing based on your location.
The battery on the Swami 6000 is a rechargeable lithium-ion type that lasts up to 16 hours per full charge. The display consists of a 2-inch color screen that you can easily read.
Besides being able to attach this golf GPS to your belt via a clip for hand-free viewing, you can mount it onto the cart's frame thanks to the built-in magnet.
That said, we should note that the Swami 6000 could use extra advanced features. The buttons are a bit too hard to push and there are no overhead images of holes.
Pros
Strong mounting magnet
Bright display
Very sturdy
Precise distance measurement
Cons
Can't charge and use at the same time
The scoring function needs getting used to
Yet another reliable golf GPS tracker from the established Garmin brand is the Approach S10. If you're a fan of the Garmin G10 handheld GPS but prefer watch models, the S10 is pretty much the watch form of the G10.
Like its sibling, the S10 golf GPS is easy to use; just power it on, select the course, and dive into action. The watch will automatically detect your course based on your location.
Similar to every Garmin GPS unit, the S10 is accurate and reliable. It provides distances to the middle, front, and back of the green, as well as the distances for doglegs and hazards.
The display on the S10 is a 1.2-inch black-and-white screen. Despite its size, its high resolution makes reading easy even in direct sunlight.
Besides the compact design, the S10 comes with more than 41,000 preloaded courses (updates roll in with extra courses). It keeps the score of rounds, total time, and total distance played.
Additionally, the S10 golf GPS watch is lightweight to prevent it from affecting your swing while sitting on your wrist. The S10 looks quite stylish and its affordable price tag makes it more attractive for budget-conscious golfers.
The S10 lets you upload/share your scorecards on Garmin Express and interact with its online community. You can even enter tournaments via the Garmin Golf app.
As for the battery life, the S10 watch lasts up to 12 hours in golf GPS mode. That's not particularly impressive, but it's great for the price.
Pros
Huge value for money
A budget-friendly option with all the essential features
Accurate on-green measurements and tracking
Lightweight build
Cons
No Bluetooth
Uses a special charger
The instructions manual needs some work
Bushnell has been in the golf GPS industry for over 60 years, so you can trust they know their stuff. If you're familiar with the original version, you'll find the Phantom 2 handheld golf GPS to be a step up in every way.
First of all, the transflective display is bigger and brighter with a 40 percent larger font. This means easier reading, even in sunlight.
Additionally, the battery life has been majorly improved to an 18-hour capacity, lasting at least two to three rounds.
We also like the upgraded mounting mechanism that uses BITE technology to allow for easier and more secure attachment via a stronger magnet.
There's also a new feature called Dynamic Green Mapping, which offers distance measures to the green's center, front, and back depending on your line of play.
You can even view the shape of the green and achieve a more accurate distance reading to the hole with pin positioning thanks to the GreenView function.
The Bushnell Phantom 2 comes preloaded with over 38,000 courses. It also supports automatic hole advance and course recognition, calculates shot distance, and detects up to six hazards per hole.
The Phantom 2 handheld golf GPS offers fantastic value for money, but it's not perfect. Besides its basic look, you may find that it takes quite a while to return to whatever you were trying to find after you press the wrong button.
Pros
Simple to navigate
Hassle-free reading of the text
Impressive yardage accuracy even on new tracks
Exceptional battery life
Cons
Undoing wrong button hits can be frustrating
What to Consider Before Buying Golf GPS Watches and Handhelds
When shopping for a reliable golf GPS device, you need to think about multiple aspects to make sure you end up with the right investment for your needs and budget.
As you can tell by now, golf GPS trackers -whether watches or handhelds- come in various models and designs, with several features to compare.
There following are the most important points to consider in the best home golf GPS watches and handhelds:
Watch vs Handheld
First things first, you need to decide between a GPS watch and a handheld GPS for your golf endeavors.
When it comes to functionality, both options are practically the same. Their features can range from basic to advanced, depending on the model and price.
The differences start to show when we talk about aspects like comfort and convenience.
If you don't like wearing watches while swinging, then a handheld golf GPS is probably a better choice.
However, you should keep in mind that using a handheld GPS means carrying it around. As such, there's always a bigger chance of misplacing or losing the device since it's not strapped onto your arm.
In this case, attaching the GPS to your bag, belt, or even cart frame can keep it from going missing.
This brings us to GPS watches.
They're the more convenient option for golfers who don't like carrying extra items around the course, prefer wearing watches, or tend to forget where they put their stuff.
If you're worried about the GPS watch affecting your swing, you don't have to. They're specifically made to be lightweight to minimize or prevent such a scenario.
The decision is ultimately up to your preferences.
Accuracy
Whether you go for a GPS watch or a handheld GPS, accuracy is a crucial aspect to consider in your purchase. It saves you the hassle of guessing your performance and improves your judgment when choosing a club.
Realistically, not even the most expensive models will get the yardage exactly right every time. You can expect them to be off by a couple of yards.
However, the last thing you need is a GPS unit that consistently gives readings off by 10 yards or more.
So what's referred to as accurate measurement in GPS units?
The rule of thumb for a GPS unit to be regarded as accurate is to provide readings within 7 yards of the exact readings.
Because they rely on the same satellites to measure distances, most golf GPS watches and handhelds on the market have similar accuracy. You can boost your device's accuracy by keeping your course maps up to date.
Features
The functions and features you can access using a handheld golf GPS or watch probably play the biggest role in selecting a model to purchase.
To create a better idea of the kind of features you need as a golfer, you should figure out what you want out of a golf GPS unit.
Is finding the yardage to different locations of the green your main concern? Do you also need the device to keep score and organize your stats?
What about calculating distances for hazards or to various pin positions? Do you care about measuring shot distances or viewing overhead maps for holes?
Basic features in golf GPS watches and handhelds include calculating distances to the center, front, and back of the green as well as distances to hazards.
Keep in mind that the more features a GPS unit offers, the higher its price. Also, the more advanced the features, the more expensive the GPS.
Weight and Feel
If you're opting for a golf GPS watch, then you should think about the weight and feel of the watch while wearing it.
These are important aspects of watches because they can affect your swing if they're too heavy or bulky.
To minimize any interference, a golf GPS watch should be lightweight, compact, and comfortable.
Feel free to wear a hefty GPS watch, but make sure you practice your swings enough that you get used to the added weight and feel on your arm.
Mounting Options
The biggest difference between golf GPS watches and handhelds is their placement.
Unlike a watch that you strap onto your wrist, you either carry a handheld GPS in your pocket, clip it to your belt or bag, or attach it to an object.
A handheld golf GPS can feature various mechanisms to support some or all of the mounting options. These include clips, magnets, carabiners, and lanyards.
Display
Whether you're buying a handheld golf GPS or watch, you'll come across two types of screens: touch-controlled and non-touch with side buttons.
Typically, displays housing touch screens will cost you more than non-touch screens.
However, touch screens usually offer more advanced and convenient features such as true green views and colored hole maps. Still, this doesn't mean a touchscreen will be easier to use, especially if you have bigger hands.
On the other hand, most non-touch screens are black-and-white displays. This can be a good option for golfers who prefer minimal graphics and simple interfaces.
Battery Life
Another vital aspect you shouldn't overlook in your GPS unit is the battery life. After all, what's the point of such a device if it dies before the round is even over?
Almost all modern golf GPS watches and handhelds on the market are equipped with rechargeable batteries.
The bare minimum in golf GPS devices is a battery that lasts one complete round (18 holes) per single charge.
Luckily, a lot of GPS watches and handhelds offer at least 12 hours and up to 30 hours of battery life depending on the mode you're using. That's enough to last for more than a few rounds.
The bottom line is, no one can decide which type of display is better for you as they can both get the job done. It all comes down to what you're more comfortable using and what you can afford.
Ease of Use
If you can't use your GPS unit effectively on the course, then why did you buy it?
This is where ease of use comes in.
You need to make sure that you can navigate the GPS device without too much hassle. You need a unit that doesn't frequently freeze, lag, or encounter connectivity/synchronization issues.
If you opt for a golf watch or handheld GPS with a touch screen, make sure it's sufficiently responsive. If it has buttons, they shouldn't be too tough to press.
Also, consider how long it takes the GPS unit to boot up, establish a stable satellite connection, and recognize your course.
Budget
Last but not least, take into account how much you want to spend on a golf GPS unit.
We made sure to include options for all budgets so you can go as affordable or as expensive as you want.
That said, keep in mind that the higher the price of the GPS device, the more accurate and faster it'll operate with more advanced features.
Final Thoughts
As you can tell by now, choosing a golf GPS unit can be a confusing task.
In addition to considering various aspects such as accuracy, features, mounting options, display, and battery life, you should also think about the budget you're willing to invest. 
Hopefully, our reviews of the 6 best golf GPS watches and handhelds along with our detailed buying guide will help you make the right decision.