Being in the market for irons can prove to be a daunting task.
The multitude of brand options, the level of forgiveness required, and the choice of shaft can all swiftly become overwhelming. This is precisely why we've decided to assess the Taylormade P790, one of the most sought-after iron sets in recent years.
The P790 iron is for the player who is looking for a player-club feel while still benefiting from the distance and forgiveness of a game-improvement iron.
In this article, our goal is to evaluate the TaylorMade P790 irons across various criteria, including sound, appearance, feel, forgiveness, and distance.
We will examine their strengths and weaknesses, delve into the selection of stock shaft options, and ultimately offer our final recommendations regarding the ideal audience for these irons and whether they merit a purchase.
TaylorMade P790 Irons Review
Coming to the market in 2017 the TaylorMade P790 iron family is now on its fourth rendition. Each iron in the set of P790s is designed differently to help players succeed which was revolutionary in the iron space.
Throughout the years these heads have improved dramatically but one thing has stayed consistent, their hollow and speed foam integrated heads.
---
The P790 irons are meant to be game-improvement irons that feel like a player's club. They are set to hit the ball high and far with the long irons while focusing on control and precision with the short irons.
---
Similar alternatives to the P790 head are the P770 and P7MC models. These two iron heads offer faster players added distance consistency and shot control while giving up a little forgiveness.
For both left and right-handed players these irons are available in three-iron through gap wedge which range from nineteen degrees up to fifty.
The three-iron through nine-iron play to a stock D2 swing weight while the pitching wedge and gap wedge come in at D3.
Sound, Look, and Feel
Through our team's extensive testing, we really enjoyed the way the P790 irons look.
They have a very sleek and modern design that looks great sitting in the golf bag and looks even better at setup. Most game improvement irons feature a pretty bulky look at setup but these do not.
The sound and feel are also great with these clubs. An internal sound stabilizer bar paired with speed foam delivered a very solid sound and feel.
We felt that these clubs have the feel of forged players' irons and also give great feedback on both good and bad shots.
Our team gives the 2023 version of the P790 a strong pass when it comes to both sound and feel.
Forgiveness
The forgiveness offered by these irons impressed our team, thanks to their variable center of gravity and well-placed sweet spot. Each P790 iron is meticulously crafted to deliver forgiveness where it's needed most and precision when it counts.
---
The weighting is thoughtfully configured, with the longer irons featuring a lower center of gravity and higher MOI. This design aids players in launching the more challenging-to-hit clubs into the air and consistently achieving solid shots.
---
The P790 heads also feature what TaylorMade calls an intelligent sweet spot.
The forged face is 1.56mm at its thinnest point, the responsive face is combined with innovative internal shaping to create a novel sweet spot configuration, representing a significant leap forward from the earlier P·790 generations.
This updated sweet spot intelligently captures a greater number of shots while maintaining consistent ball speeds and precision.
These irons seemed to give us consistent results even on the worst mishits.
They truly do perform as well as the best game improvement irons on the market making them another strong pass in this category.
Distance
The combination of speed foam-filled heads and low center of gravity long irons produces maximum ball speeds and carry.
Our team picked up as many as two clubs compared to their current irons which is a huge jump!
There isn't much more to say about this category than that but if you are looking for more distance, these irons are long, that is for certain.
Key Technologies
Moreso than about any other iron on the market, the P790 irons are packed full of amazing technology.
These irons have undergone years of research and development to arrive where they are today.
FLTD CG
The FLTD CG™ technology strategically places the center of gravity (CG) at its lowest point in the long irons and gradually raises it as you move through the set.
This design, combined with a thick-thin back wall construction, allows for precise redistribution of weight, enhancing the mass properties and enabling precise CG placement.
As a result, the long irons offer improved launch and playability, while the scoring clubs deliver enhanced precision and control.
4140 Forged High-Speed Inteligiant Face

The thinnest point of the 4140 forged high-speed face measures 1.56mm.
When this responsive face is paired with innovative internal shaping, it results in a groundbreaking sweet spot design, marking a significant improvement over earlier P·790 generations.
This advanced sweet spot intelligently captures a greater number of shots, ensuring consistent ball speeds and precision.
High-Speed Foam Air
Aiding in distance, sound, and feel the high-speed air foam has always been a part of the P790 irons.
This year, Taylormade took the foam fill a step further and took an average of 3.5 grams out which they were able to position lower to increase center of gravity and forgiveness.
Stock Shaft Options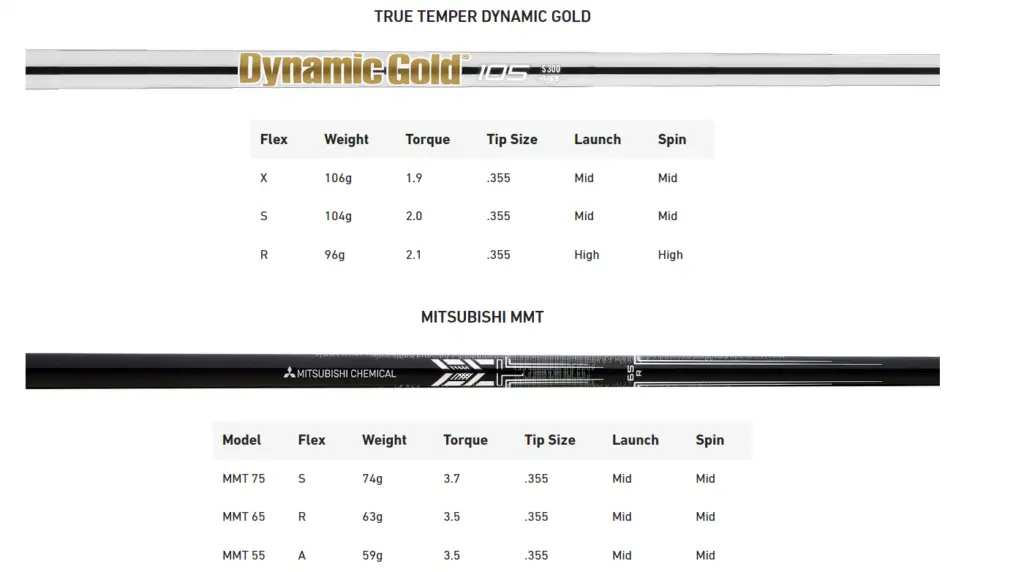 Pros
Higher forgiveness in long irons and more precision built into short irons
LONG, get ready to pick up at least one club of distance with these clubs
Consistent ball flight on distance on mishits
Has the look of a player's club with the benefits of a game-improvement iron
Cons
Ultra-thin face could cause faster-speed players to have inconsistent distance control
Expensive, coming in at $1,399.99 (although worth it)
Long irons could be too high launching for high-ball hitters
Recommendation
The TaylorMade P790 irons offer a dynamic blend of player's club finesse and game-improvement performance, making them a solid choice for a specific category of golfers.
Here's our recommendation on who these irons are well-suited for and who might want to explore other options:
Ideal for the Following Golfers:
Mid-to-High Handicap Players:

Golfers who fall within the mid-to-high handicap range will appreciate the enhanced forgiveness and distance these irons provide. They can enjoy improved performance without sacrificing control.

Players Seeking More Distance:

If you've been looking to add a few extra yards to your shots, the P790 irons are primed to deliver. The combination of innovative technology and design yields impressive distance gains.

Aesthetics Enthusiasts:

The sleek and modern design of the P790 irons appeals to those who want their clubs to not only perform well but also look good in their bag and at address.

Golfers on a Journey to Lower Their Handicap:

These irons can help transitioning players who are aiming to evolve from game-improvement clubs to more player-centric clubs without making a sudden, jarring shift.
Not the Best Fit for:
High-Ball Hitters:

Golfers who already launch their shots quite high might find that the P790 long irons produce an even higher trajectory.

This can potentially lead to difficulties in controlling ball flight, particularly in windy conditions.

Budget-Conscious Golfers:

The TaylorMade P790 irons are undoubtedly a premium investment.

If budget constraints are a significant consideration, there are more affordable options available that still offer excellent performance.

Ultra-Fast Swing Speed Players:

Those with exceptionally fast swing speeds may encounter challenges with distance control due to the ultra-thin face of the P790 irons.

It's advisable for such players to test these irons thoroughly before committing to them.
In essence, the TaylorMade P790 irons are designed to elevate your game, offering forgiveness, distance, and precision in a visually appealing package. However, the suitability of these irons depends on your specific playing style, preferences, and budget.
We recommend trying them out, ideally with a professional fitting, to determine if they align with your golfing needs and objectives.
Our team loves these irons and if you fit in our criteria of someone these irons would be good for, go get yourself a set today!