Whilst a quantity of golf balls and a set of the finest clubs are essential prerequisites of any player's golf bag, one lesser known yet no less important tool is a piece of kit known as the golf ball retriever.
This handy item of golf equipment is the means through which errant golf balls are recovered from ponds and water hazards, from undergrowth and overgrowth.
It is a purpose built, functional alternative to thrashing angrily, and blindly, around with your favorite club in an often vain attempt to reach golf balls consigned to inadvertent locations which are tantalizingly out of reach.
And whilst the principle of the golf ball retriever as a simple scoop on a stick could not be more basic, the industry has thrown up a surprisingly diverse range of options which can be almost as specialist as your clubs themselves.
Rescuing lost golf balls has become something of an art form all of its own, and manufacturers have risen admirably to the task to produce some state of the art designs for maximum recovery potential.
Why a Golf Ball Retriever?
When you think of how affluent many members of the golfing fraternity are, the five dollars or so spent on a decent golf ball doesn't seem much of a big deal. But they add up, and on a bad day a player can lose several in the same match.
Worse than this though is the possibility of running out of golf balls during a game. When this happens a player is left with nothing to do but hope that another golfer can come to the rescue, and then there are sundry stipulations about the make of the replacement ball being the same and so on.
Better not to leave oneself a hostage to fortune in the first place. If it is at all possible to retrieve balls it is advisable just to go for it.
Of course, our limbs were designed to reach out and stretch. But a ball in a bush or amid bramble which needs to be carefully negotiated can lead to cuts and tears, or even to back injuries if any sudden movement turns out to be the wrong one.
When you need a golf ball that has gone astray, a retriever is purpose built to do the heavy lifting, so to speak, on your behalf.
What Functions Should the Best Ball Retriever Have?
The clue to its overriding purpose can be found in the name, but there are myriad specific situations which are quite unique to the golfing experience. Here are just a few of them:
A boundary fence (which the golf ball is hit beyond)
Water hazards
Bushes
Between and around rocks
Mud
Overgrowth and bramble
In all of these scenarios it is usually preferable to take the relatively effortless option of using a golf ball retriever than to stretch your back and risk damaging or aggravating muscles, tendons or joints.
The right golf ball retriever will therefore have what it takes to recapture golf balls from any of these hazards or snags, whilst remaining portable, light to handle and easy to use.
After all, golf bags are designed primarily for golf clubs and balls so bulky accessories of any kind are an absolute no-no. As such the ideal is something sturdy yet light to the touch, retractable and user friendly.
Which are the Best Golf Ball Retrievers?
There are a number of hugely popular ball retrievers available on the market. Let's take a look at just a few of them:
Callaway Golf Ball Retriever
One of the best products in its field, this product is made from a high quality aluminum alloy and extends out to six feet long, although it contracts to around a third of that size, allowing it to be packed away unobtrusively into the golf bag with the golf clubs.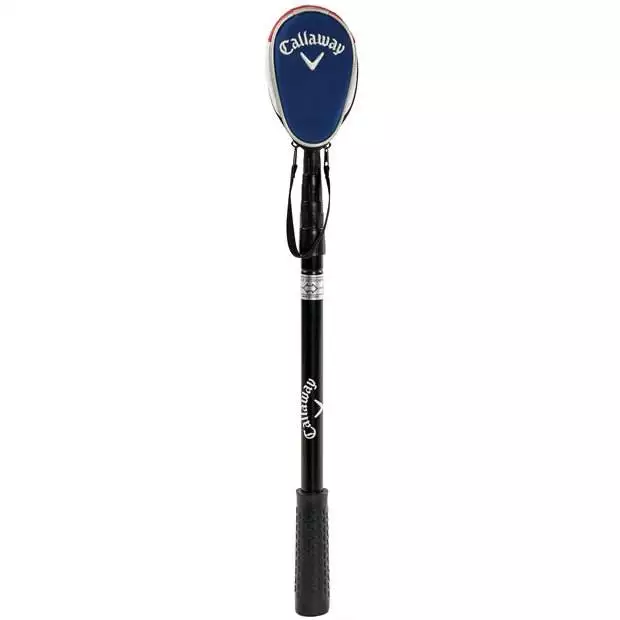 The Callaway 15th Club Pocket Retriever extends to 6 feet and features an ergonomic sure-grip handle and a stainless steel mechanism for easy pick-up. 
Constructed of high-quality aluminum alloy to prevent bending

Includes a dual zip headcover

Ergonomic sure-grip handle

Easy to extend to 15ft reach
We earn a commission if you click this link and make a purchase at no additional cost to you.
It features an ergonomic grip which enables it to be held securely in any conditions, has a capture mechanism for efficient use in most situations and comes with a neat, branded head cover. Priced at around forty dollars it also represents excellent value.
JP Lann Golf Ball Retrievers
With a light aluminum shaft this range of ball retrievers goes up to a full eighteen feet in length and carries a distinct orange head, enabling it to be seen and manipulated through water or other obstruction.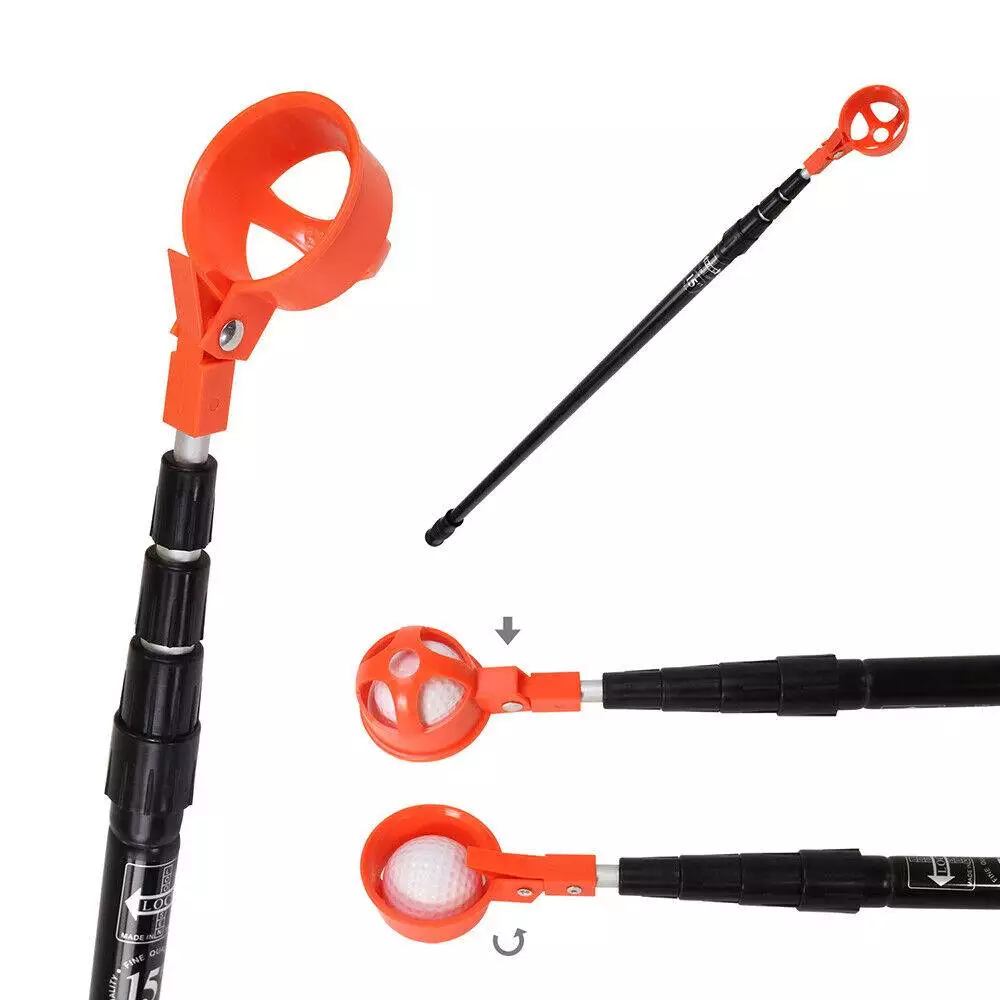 Golf Ball Retriever with Orange Hinge Cup Head
Easy retrieval allows for upside down ball pick up

Comfort grip handle

Great visibility under water

Neon orange nylon head
We earn a commission if you click this link and make a purchase at no additional cost to you.
The telescopic design of the JP Lann retriever allows it to be retracted for convenient storage.
IGotcha Golf Ball Retriever
With its high visibility and fourteen foot reach the IGotcha is arguably the best golf ball retriever of them all.
It weighs only ten ounces and contracts to an incredible 17.5 inches, making it extremely easy to store and to carry around.
Best Golf Ball Retriever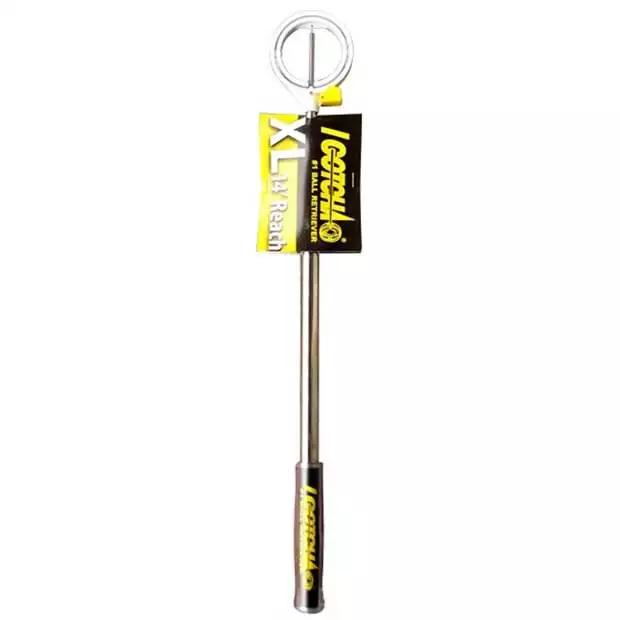 The I Gotcha XL 14-Foot Ball Retriever is durable, lightweight, extends to 14 feet, and collapses down to fit easily into your golf bag with your clubs.
Lexan head securely traps the ball under any circumstances

Very easy to use, secure and sturdy

Collapses to very small size and extends to variety of lengths

Fits in the bag nicely, very compact
We earn a commission if you click this link and make a purchase at no additional cost to you.
The stainless steel shaft makes it tough and durable, overall a great option for helping to recover your lost balls.
Prowithlin Golf Ball Retriever
This retractable golf ball retriever with an innovative spring release system is one of the most affordable on the market.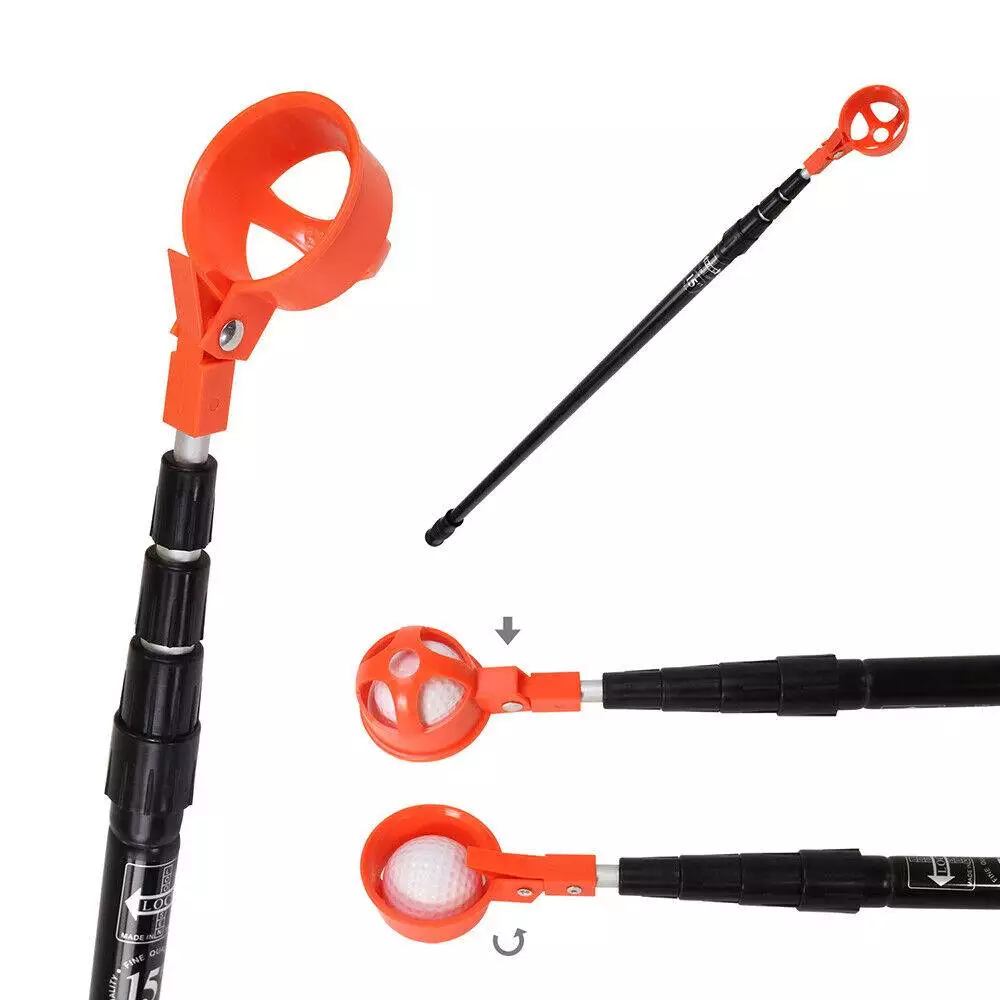 Golf Ball Retriever Telescopic for Water with Automatic Locking Scoop
Stainless Extendable Golf Ball Retriever

Lightweight but Strong Enough

Automatic Locking Scoop Cup Design

Lightweight but durable
We earn a commission if you click this link and make a purchase at no additional cost to you.
It features an automatic locking device and incorporates non-rust stainless steel telescopic technology.
Pelican Yellow Nylon Cup Retriever
More "old school" and traditional in style than most golf ball retrievers, this highly functional tool comes in three available size options (to eighteen feet) and yet collapses down to as many inches.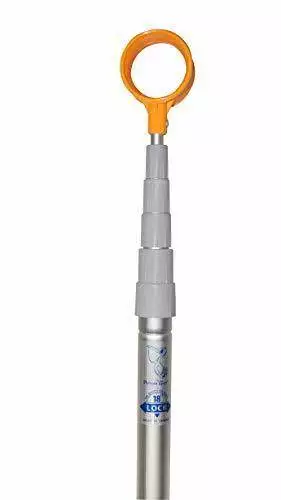 Pelican Golf Ball Retriever with Premium Golden Yellow Nylon Cup in 18ft Maximum Length
Extends up to 18' Collapses to 3'8"(44")

Robust Cup: Gold Yelloe Nylon Cup can help you Easy Gran and Retrieve Golf Ball

Twist Turn-Lock, Adjustable Length, Telescopic Design

Comfort Grip and Lightweight Aluminum Alloy Shaft
We earn a commission if you click this link and make a purchase at no additional cost to you.
Its yellow nylon cup enables the head to be seen in most situations, making for simpler and more efficient ball recovery.
ProActive Sports Retriever
One of the spring release golf ball retrievers, the ProActive option offers secure cup closure with a locking mechanism which makes it possibly the best tool for recovering golf balls from wooded areas.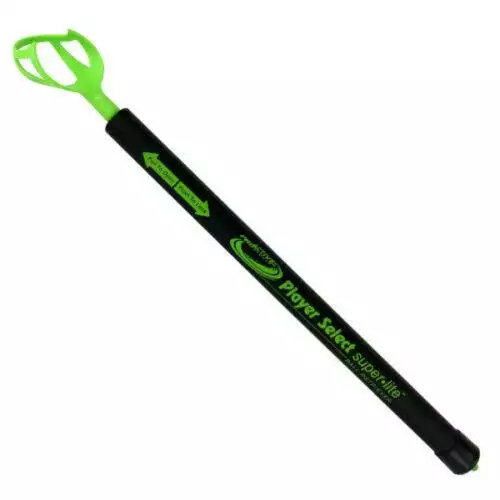 ProActive Sports Player Select Super Lite Golf Ball Retriever
Easily extends out to nine feet to capture any golf ball

Weighs just seven ounces to easily carry in your golf bag or on your cart

Unique capture head secures the ball into place

Push button release locks and unlocks the extendable shaft
We earn a commission if you click this link and make a purchase at no additional cost to you.
Search and Rescue Retriever
One of the longest ball retrievers, this 24-foot giant with its instantly recognizable bright orange top and a lifetime guarantee is made from recyclable materials by a company whose ethos is rooted in helping to protect the environment. Retracts effortlessly to allow for easy storage.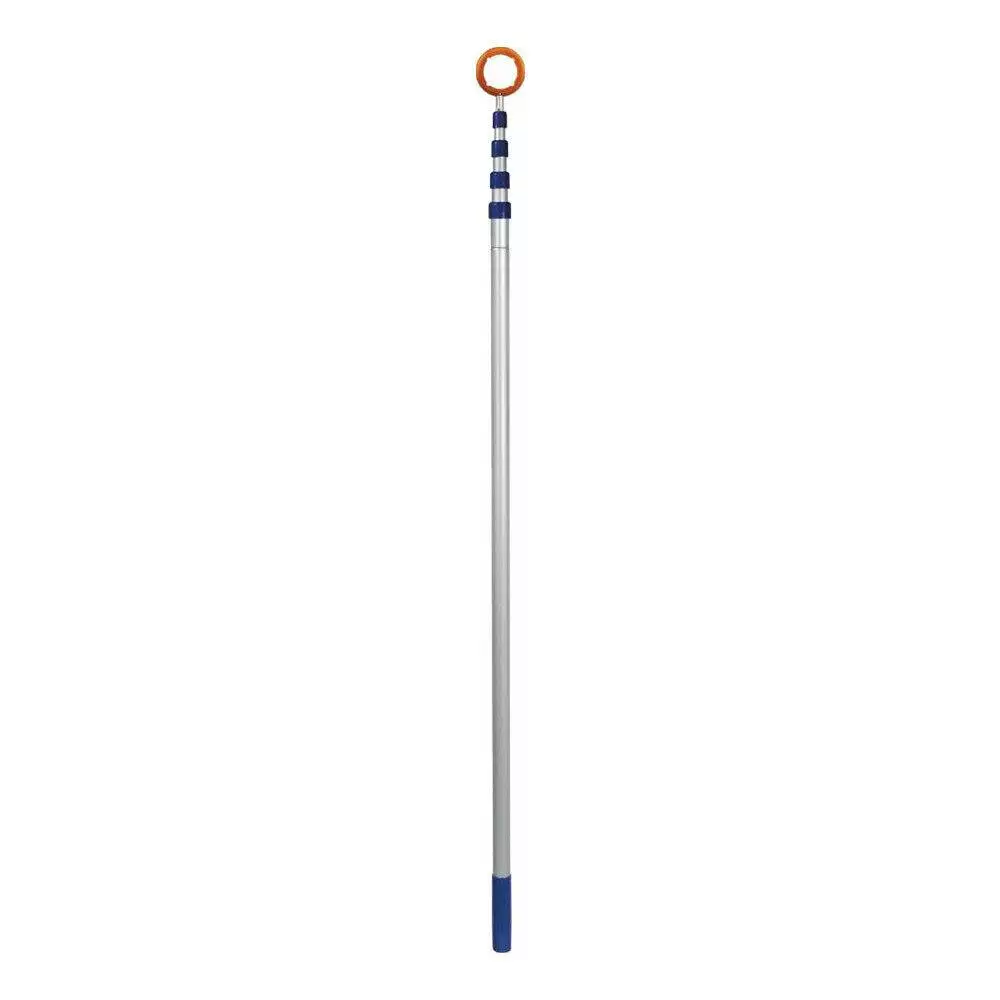 Search 'N Rescue Magic Gripper Golf Ball Retriever 15'
Patented Magic Gripper head is magnetic-like, gripping a golf ball like magic on any surface

The anodized aluminum head prevents oxidation and corrosion

No moving parts reduces any chance of breakage

Place either side of Magic Gripper head over golf ball, press lightly to pick-up

Can also use to scoop the ball on soft surfaces
We earn a commission if you click this link and make a purchase at no additional cost to you.
Signstek Golf Ball Pickup Scoop
A six-foot reach, and made from high quality stainless steel for long-lasting durability. Although a shorter retriever the Signstek is a versatile product which is also able to recover larger items.
Golf Ball Gopher
Described by its manufacturer as "the most efficient and easy-to-use golf ball retriever ever invented", the simple and effective retriever boasts components which are all manufactured and produced in the USA.
Inesis 100 Telescopic Golf Ball Receiver
Simple to use, lightweight and adjustable, this handy tool which retails at only about $30 won't leave a hole in your pocket.
Which Features Should You Look For in a Ball Retriever?
A golf ball retriever is a fairly uncomplicated piece of equipment, but there are a few features which one might expect such an item to have. These might include
Length
Fishing a golf ball out of a lake can be a cold and wet affair if the shaft length of the retriever is not sufficient to enable it to be rescued from the bank. Some of the ball retrievers on the market are up to 24 feet in length when fully extended, giving the rescuer at least half a chance of staying dry whilst recovering an errant ball.

Portability
All else being equal, the longer the pole the heavier and less portable it is likely to be. Manufacturers have had some success in overcoming this dilemma by producing an impressively lightweight retriever which is nevertheless quite sturdy enough for the task in hand. Most of the best ball retrievers manage to combine a lengthy reach with a light design.

Compactability
However long it is, it really should fit into your golf bag with all your other equipment once it is contracted. If it doesn't then carrying it around the golf course is going to be more trouble than it is worth.

Comfortable grip
Because of its length, the retriever can dig into the hand when being held out at maximum length. Most overcome this by means of a tight grip, enabling correct and comfortable handling.

Visibility
When the retriever head sinks beneath the surface of a water hazard or into the undergrowth, it is useful if you can actually see the head which has been tasked with picking up the ball. A bright color usually does the trick.

Price
Important though it is, a golf ball retriever doesn't require the technical proficiency of a golf club. It's a functional piece of equipment designed to do a particular job. Find one that doesn't put too much of a strain on the pocket. Be sure to shop around and save money.
Possessing and carrying a golf ball retriever when playing golf will prove worthwhile in very little time indeed. Once you are able to retrieve golf balls rather than leaving them in the pond or in a bush your investment will pay for itself in very little time at all.
Most golfers like to play golf without having to worry about whether or not they'll be able to complete their golf game without running out of golf balls. A ball retriever will provide you with this piece of mind. It may even save your back.