Claire Hogle has been taking the golfing world by storm ever since she was a freshman in college. The now 23-year-old social media sensation, professional golfer, and YouTube star has had quite the career thus far and shows no signs of slowing down anytime soon.
Her Instagram account boasts over 839 thousand followers, and her YouTube channel has amassed over 8 million views. Claire's love for the game of golf started at a young age, and she hasn't looked back since.
So, what's in Claire Hogle's golf bag? And how far does she hit each club? Let's take a look.
Golf Bag – Vessel 2022 Player III Stand / Carry Golf Bag 6-Way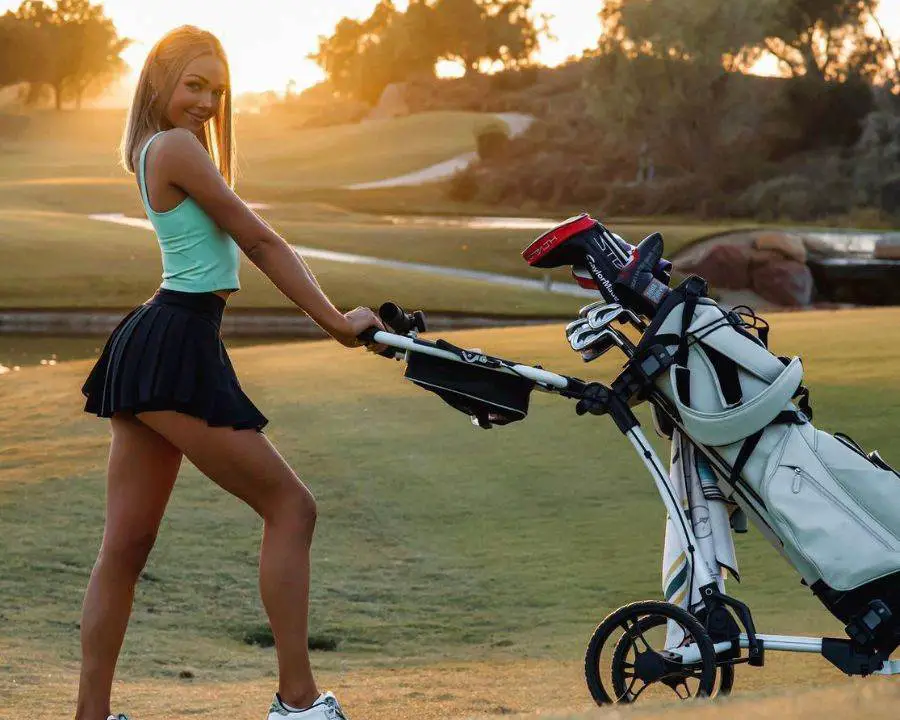 Claire currently plays with the Vessel 2022 Player III Stand / Carry Golf Bag 6-Way. This golf bag is tour-grade and features a synthetic leather construction for durability.
It also has a larger top with a more intentional divider layout, magnetic water bottle pockets, and a compression molded back panel for added comfort.
As Claire describes in her youtube video, in one of her pockets she carries a bottle of water to stay hydrated, and in her front pouch, she carries tees and gloves.
Claire's front pouch also includes a space for golf balls and is adorned with her name and Instagram account. So make sure to follow her on Instagram for more updates on her successful life and impressive golf career!
Golf Bag – Miscellaneous Items and Accessories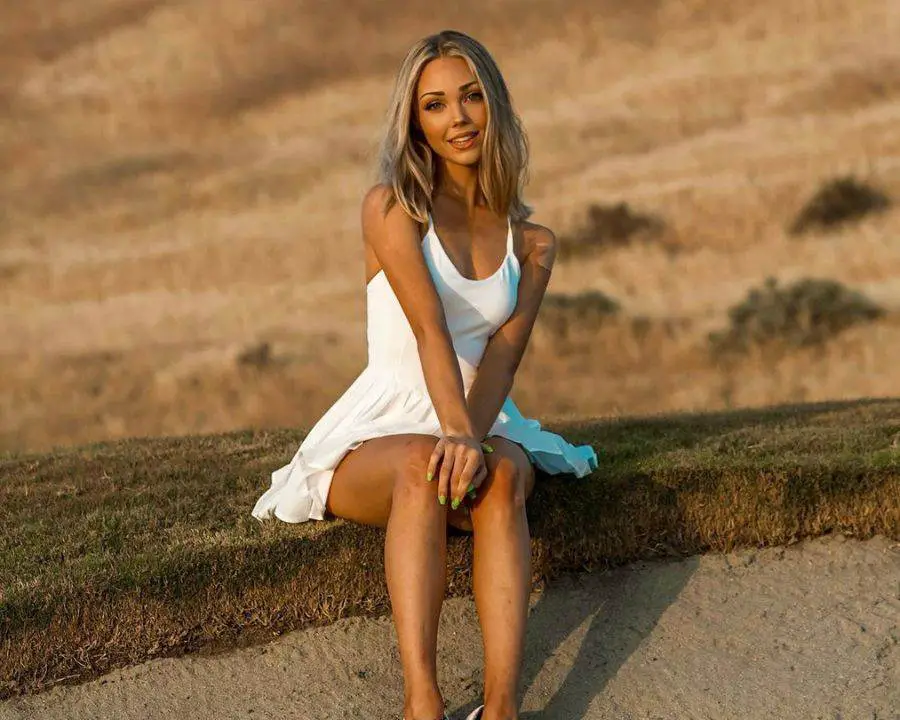 Most golfers have a few miscellaneous items and accessories in their golf bags, and Claire is no exception. In addition to the essentials like water and tees, she also carries a brush, golf wrench, extra golf balls, and towels.
Golf Balls
Golf balls are an essential part of any golfer's bag, and Claire is no exception.
She carries a few different brands and types of golf balls in her bag including Taylormade, and Titleist Pro-V 1 and as she mentioned in her video she is not a golf ball agnostic.
The Pro-V 1 golf balls are some of the most popular on the market and are known for their distance and accuracy. So it's no surprise that Claire relies on them when she's out on the golf course.
Range Finder – Blue Tees Pink Rangefinder
You will find that Claire Hogle's golf bag is filled with all the latest and greatest technology to help her lower her score. She has a Pink and Blue Range Finder – Blue Tees Golf Series 3 Max Golf GPS which allows her to get yardages quickly and accurately.
The rangefinder also has advanced slope technology so she can take the hills into account for better club selection. It also has flag lock technology which makes it easy for her to find and lock onto the flag, even from a distance.
Slope is now in your control

Mounts to the Cart

Auto-Ambient Display

Flag-Lock Pulse Vibration
Towels
You will notice she has two Devant handmade towels. One is for her golf clubs and the other is for her own personal use.
The golf towel allows her to keep her clubs clean and dry throughout the round, while the other towel is perfect for wiping down her own hands and face.
Golf Clubs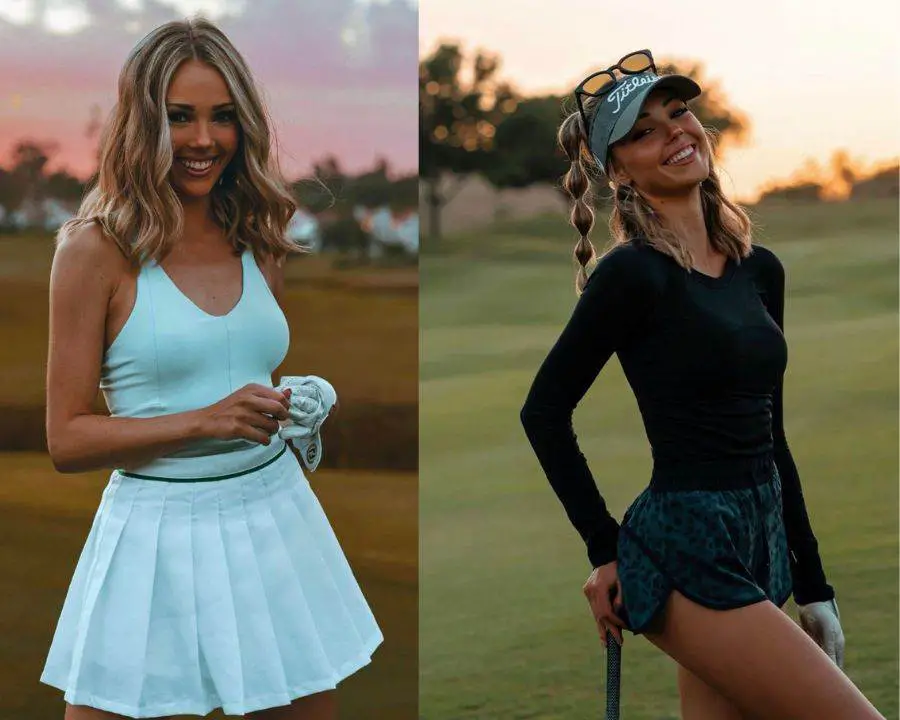 If you are new to golf, then you might not be familiar with all the different types of golf clubs. According to USGA, there are 14 clubs that a player is allowed to carry in their bag.
Claire carries a full set of golf clubs including a driver, fairway woods, irons, wedges, and a putter.
In her bag, you will find a combination of Titleist, and Taylormade golf clubs and a Scotty Cameron putter.
Irons
Starting with the irons, Claire has the Titleist T200 5-iron through the pitching wedge. These clubs are designed for players who are looking for Tour-level distance and forgiveness.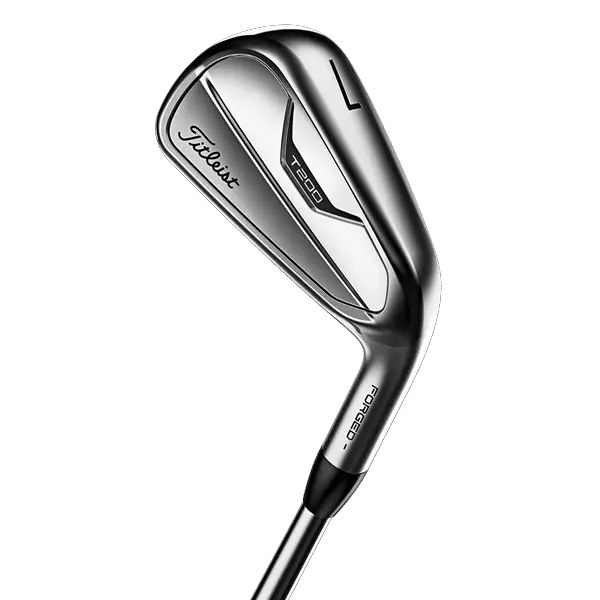 The T200 irons by Titleist deliver a tour-inspired look and feel 
Forged face inserts 
Multi-material body: Engineered Muscle Plate
Precision distance control
The beauty of the T200 is that it accomplishes both without sacrificing any feel.
The head is forged from a single billet of soft carbon steel and features a Tour-proven shape that's been refined through Titleist R&D. The face insert is thin and forged from high-strength stainless steel, providing more speed and distance.
For the shafts in Claire's irons, she has the Acrotech SteelFiber i80 in regular flex. These irons work really well for Claire and she had them for a few years now.
Yardages
5 Iron – 175 Yards
6 Iron – 161 Yards
7 Iron – 153 Yards
8 Iron – 143 Yards
9 Iron – 128 Yards
PW – 117 Yards
---
Related Article: Claire Hogle Net Worth, Wiki and Bio
---
Driver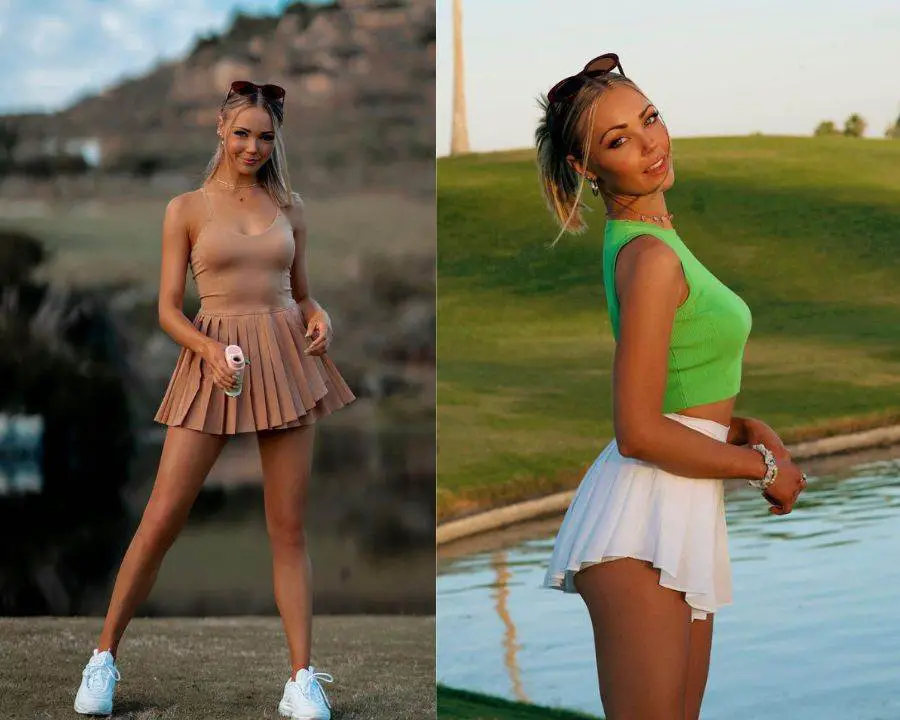 Claire carries the Taylormade Stealth driver at 10.5 degrees at the standard loft. Although she might bring it down a couple of degrees in the future to improve her distance. The shaft is a Fujikura Ventus 5-R blue shaft and the setup works really well for her.
The Taylormade Stealth is currently one of the hottest drivers on the market and it's no surprise that Claire has one in her bag. The driver is designed to provide more distance and forgiveness for golfers of all skill levels.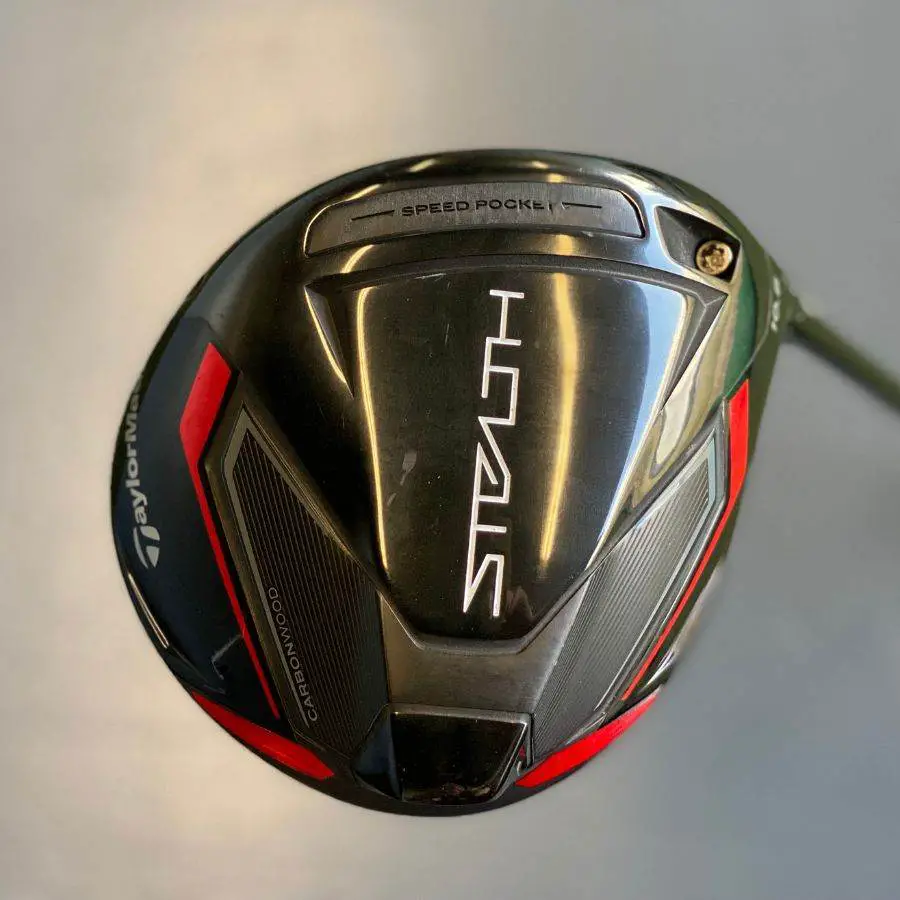 It has a Carbon Twist Face design that's unlike anything else on the market

It's designed to provide more forgiveness on off-centre hits

The Tru-Slot Speed Pocket is designed to reduce spin and maximize ball speeds

It has a high MOI design that makes it more stable on off-centre hits and sounds great
We earn a commission if you click this link and make a purchase at no additional cost to you.
Yardages
Driver – 258 Yards
Woods and Hybrids
Moving on to the woods, Claire has a Taylormade M4 Tour 3-wood and a Taylormade M2 3-hybrid. The hybrid is in a 19-degree loft and the wood is in a 15-degree loft.
The hybrid has a "secret" Fujikura shaft (unreleased shaft) which is really cool. The M4 3-wood has the Fujikura Pro 2.0 shaft in stiff flex as Claire is a strong player and can hit this club really well.
Yardages
3 Wood – 227 Yards
3 Hybrid – 198 Yards
Wedges
The wedges in Claire's bag are a few years old, but nonetheless, they are still high quality and get the job done. She carries a Titleist Vokey SM7 48-degree wedge, a 54-degree wedge, and a 58-degree wedge. You will notice that she has cool little stamps on with her initials.
The shafts on her wedges are true temper amt red and the grips are golf pride. Claire's Vokey wedges are some of the most popular on the market and are known for their spin and accuracy. They are also incredibly versatile and can be used for a variety of shots around the green.
Yardages
48 Degree – 101 Yards
54 Degree – 85 Yards
58 Degree – 74 Yards
Putter
For the putter, Claire plays the Scotty Cameron Newport 2 with a little pink in it although the color is now wearing out.
If you don't know the Scotty Cameron brand, they are one of the most popular putter companies in golf and are used by many professionals on Tour. They are known for their high quality and craftsmanship.
Best Premium
Scotty Cameron is no doubt one of the best putter makers in the world. 
It has a flatter, narrower topline and a redesigned plumbing neck
Performance balanced weighing
Soft Tri-Sole Design, aesthetically pleasing view of the topline
Solid Milled Construction
We earn a commission if you click this link and make a purchase at no additional cost to you.
The Newport 2 is a classic design that has been used by many Tour players over the years. It's a blade-style putter with a slight offset that provides a great feel and accuracy.
Claire's putter has a pink (obviously) Rosemark grip and she loves the way it looks and feels.
Conclusion
Claire only carries 13 clubs in her bag and if she was to add another it would probably be a 5-wood. Just to fill that gap between her 3-wood and 3-hybrid. But other than that, she's happy with the clubs she has and feels confident with them.
Don't forget to check Claire's video below where she talks about her golf bag and clubs in more detail!