Are you a younger golfer looking to hone your skills? 
Or someone with no background in the sport but wants to get started playing golf? Or even a parent that wants to get their child to practice and enjoy golf?
Whatever the case is, Wilson has a set that is an ideal option for you. Not only is it a beginner's set, but there are options for men, women, seniors, and teens. 
Keep reading to learn why these Wilson Profile XD sets are some of the most affordable and best options for beginners. 
Wilson Profile XD Golf Club Set Review
Golf clubs are not one size fits all, which is why so many players like getting fitted for clubs. This is an expensive process that we don't recommend for new golfers.
Luckily, you don't have to worry about it, as Wilson has clubs fit for all types of golfers with the SGI and XD sets. 
As mentioned on the PGA Tour Superstore's website, "The Wilson Profile SGI complete golf set is the only "Custom fit in a box" system in the world. It features thirteen options — with various lengths, lofts, flexes, bags and grip sizes to more perfectly fit beginner golfers and their unique physical characteristics."
Men's sets are available in standard (5'5" to 6'1") and tall (6'1" to 6'5"). Women's sets are available in standard, tall, and petite.
They also have a Senior set in standard size and the Teen Profile XD for anyone who is between 5'3″ to 5'8″.
This type of customization is unheard of when it comes to complete sets and ensures they'll match your height and flex.
This will help make the game easier by guaranteeing they're not too long or heavy, which makes the game a lot more challenging. 
Today we'll focus on the Wilson Profile XD golf club set, which is geared towards teens and younger golfers. 
What's In the Set?
The Wilson Profile XD golf club set comes with ten clubs: a driver, 5 wood, 5 hybrid, 6-9 iron, a sand wedge, a pitching wedge, and a putter.
For a beginner set, the fact that the Wilson Profile XD set comes with pitching and sand wedges serves to show just how dedicated the company is to providing you with all you need on the course.
All clubs are packed into a premium, lightweight carry bag as well. It comes with plenty of pockets for storage, a self-activating stand, and a rugged handle top.
The shoulder straps feature Air Flow technology, which makes them breathable and comfortable to carry. Plus, the straps are adjustable to cater to different size players.
The set also comes with four head covers to protect your investment and minimize noise when riding in a golf cart.
The headcovers look as edgy and cool as the stand bag, giving you an overall stylish look.
Looks and Feel
All these clubs and bags look great and don't make it seem like a beginner's set. The silver, black, and yellow blend together to give it a futuristic design and the patterns add to that appeal.
Performance
Aside from looking and feeling like a premium set, let's get into some of the technology.
Driver
The driver is a large 460cc clubhead that should inspire confidence.
It comes with an intricately-engineered "Super Game Improvement" design, making it lightweight and very easy to hit off the tee.
This technology is tailored for beginners, as everything about the club should help you add speed and hit it longer than ever. 
5 Wood
The 5 wood is one of the best clubs that come in the set. It also has a graphite shaft that is lightweight and built for distance above all else.
Having a 5W vs. a 3W is a good option for beginners, as the extra loft will make it easier to hit from the fairway and light rough.
5 Hybrid
The 5 hybrid does an excellent job to fill the gap between the 5 wood and the 6 iron.
The loft and perimeter weighting allow you to get a good trajectory when hitting from any type of lie. 
Irons and Wedges
The stainless steel irons give you the maximum distance and accuracy as they come with a small center of gravity. That's thanks to the fact that they're perimeter-weighted.
Not to mention, the irons are quite durable. They're made of 431 stainless steel, which is highly corrosion-resistant.
There is 6-9 iron and both a sand wedge and pitching wedge. For a beginner set, the fact that it comes with both wedges is a big perk, as it helps you practice all kinds of shots around the green.
The only downside is that there aren't long irons included in the set, making it somewhat limited for more experienced players. Still, if you're a beginner with a slower swing speed and want to get into golfing, this set will be great for you.
Unlike the drivers, the irons and wedges come with steel shafts, but they are very lightweight.    
Putter
Hitting the Wilson Profile XD's putter is easy with its simple and forgiving design.
Thanks to the heel/toe weighting, which further enhances the stability of the club.
Technology
The Wilson Profile XD golf club set comes with the perfect amount of technology for beginners to enjoy the game quickly. Their lightweight components make it easy to achieve great distances as well.
Not to mention, the large sweet spot makes it even easier to accurately hit the ball. Meanwhile, the perimeter weighting makes the shots straighter and avoid trouble on the golf course. 
Wilson Profile XD Golf Club Set Pros
So, what are the reasons that you should consider the Wilson Profile XD golf club set?
Great value for your money.
Available in RH and LH models.
Perimeter-weighted clubs for extra forgiveness.
Large sweet spot helps add distance on mishits. 
High loft on the wood and hybrid to suit beginners.
Wilson Profile XD Golf Club Set Cons
What are the reasons you shouldn't get the Wilson Profile XD golf club set?
Easy to hit driver.
Comes with only 10 pieces.
Doesn't come with long irons (which most new golfers don't need). 
Alternative Sets to Consider
If you're not 100% sold on these Wilson XD golf clubs, there are some other sets to consider.
Callaway Strata Golf Set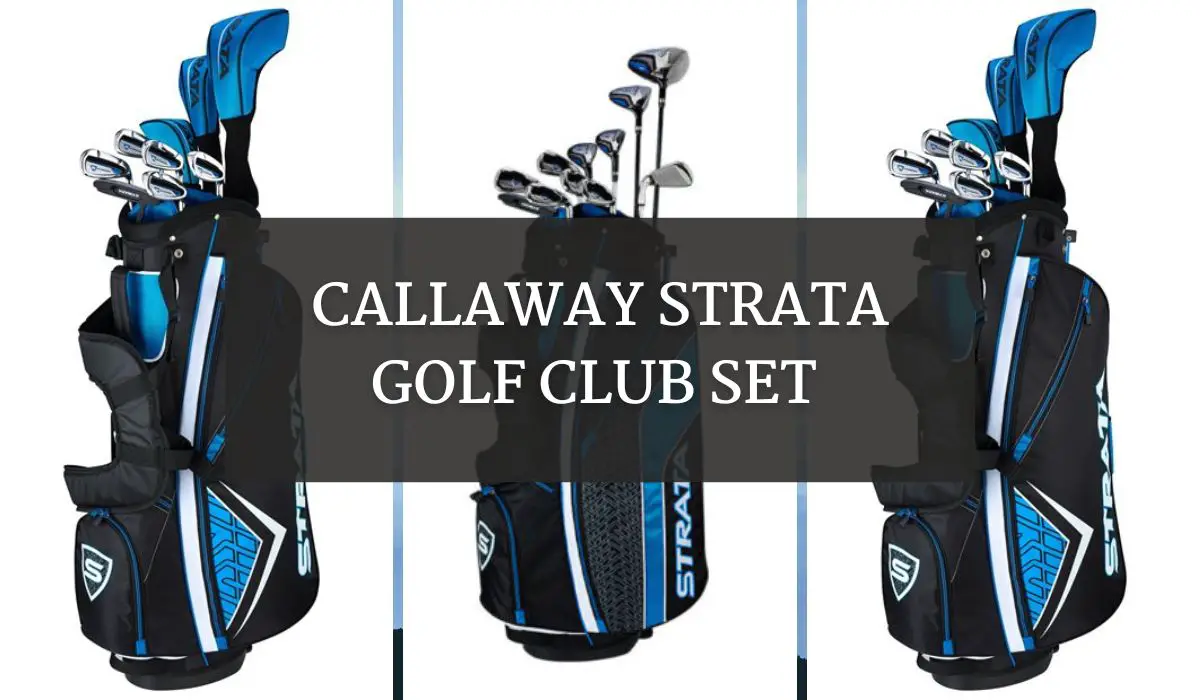 Callaway makes some of the best golf clubs in golf – whether you're a beginner who needs a full set.
Or, an experienced player who needs high performing woods and irons, Callaway has an option for everyone.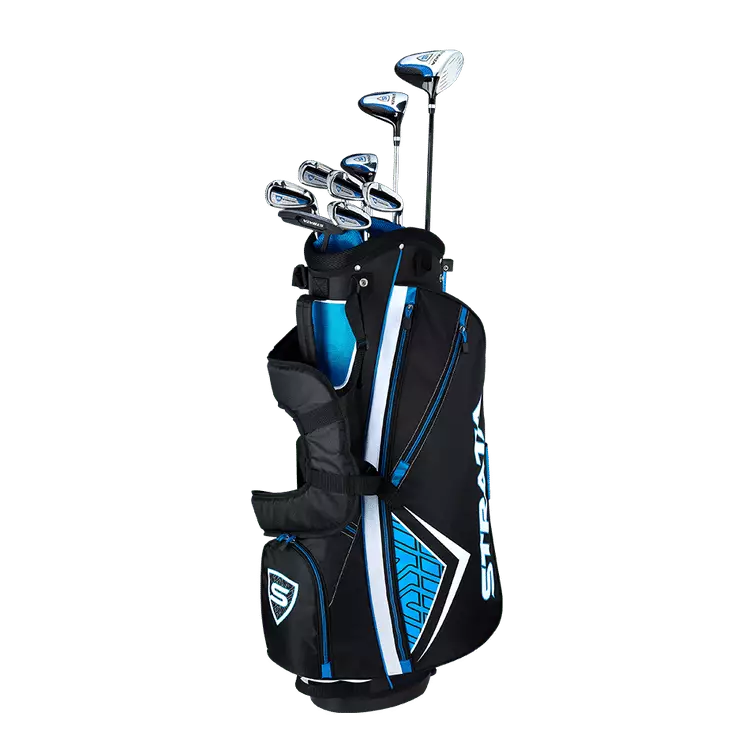 The Strata set is one of the most complete golf club sets as it includes:
460cc driver
3 wood
5 hybrid 
6–9 irons and pitching wedge 
Putter
Matching bag
The large driver should give you tons of confidence off the tee, while the 3W and hybrid are also great on the tee or from the fairway. The irons also offer a perfect mix of forgiveness and control as well.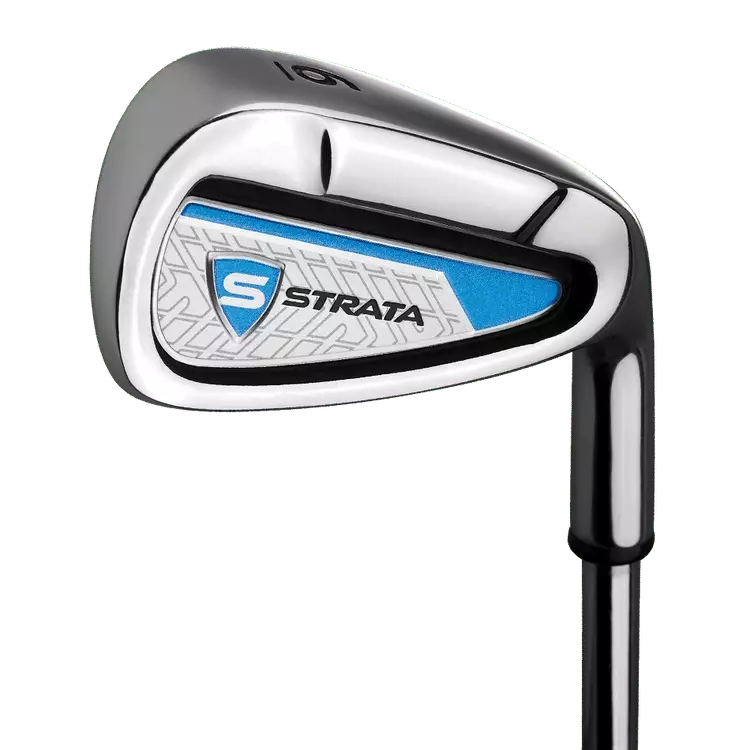 This set is also available in other models, including a 14 and 16-piece set for even more golf clubs. Priced at under $400 these are some of the best deals in golf. 
Learn more about the Callaway Strata 12-Piece Set here. 
TaylorMade RBZ Set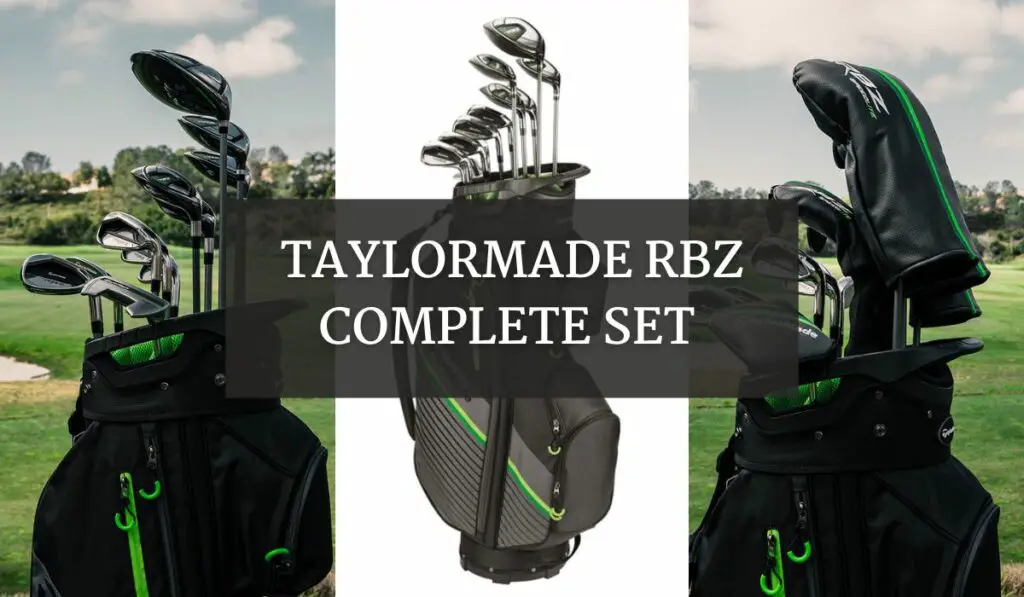 TaylorMade is another top name in the golf world making equipment for beginners, intermediate golfers, and even professionals. However, their beginner RBZ Speedlite set is one of the most impressive options on the market.
Let's face it, most beginner sets are pretty basic in terms of design and don't have a ton of innovative features. The goal for most beginner sets is to help a new golfer learn the game with the basics without breaking the bank.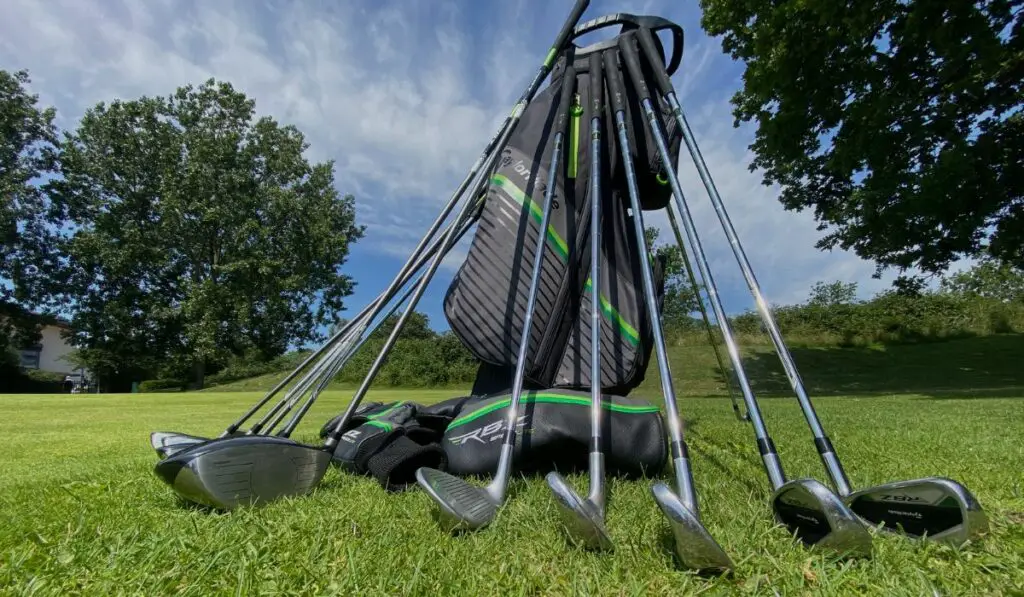 TaylorMade flipped the script with the RBZ 13-piece set, with its impressive technology and looks in every club. These clubs should last you significantly longer than most options. 
The driver feels like one you'd buy for $500 with its low CG placement and Speed Pocket for more forgiveness than ever.
As TaylorMade noted, "A lightweight 460cc titanium head features advanced aerodynamic shaping to promote faster swing speeds and is aided by an ultralight 50g RBZ shaft."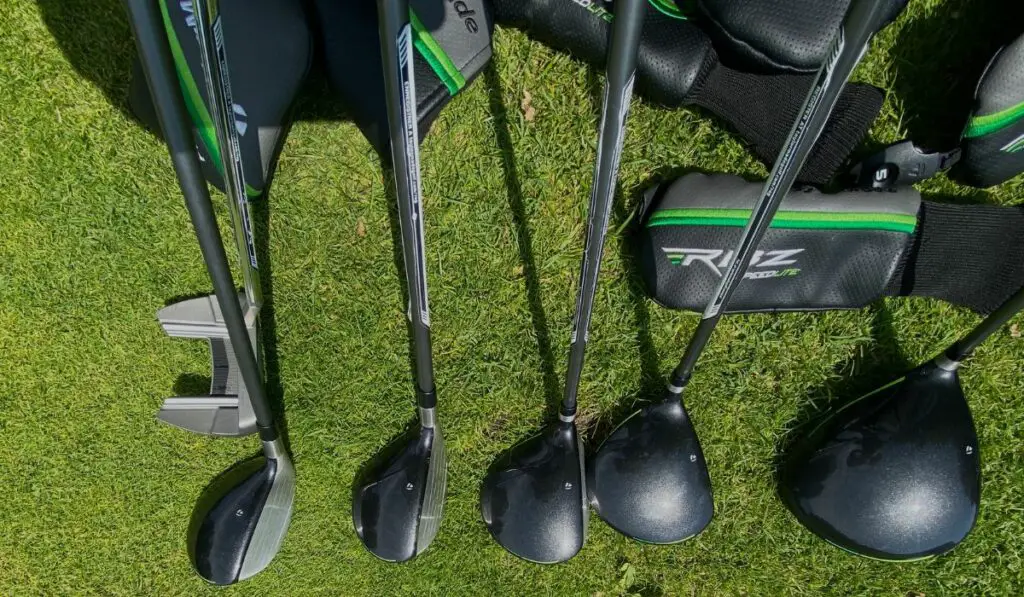 The set also includes a Rocketballz (RBZ) 3W and Rescue club that are lightweight for faster swing speeds.
The irons and wedges are also very stylish and lightweight, with plenty of forgiveness as well. Not to mention the mallet putter with PureRoll technology.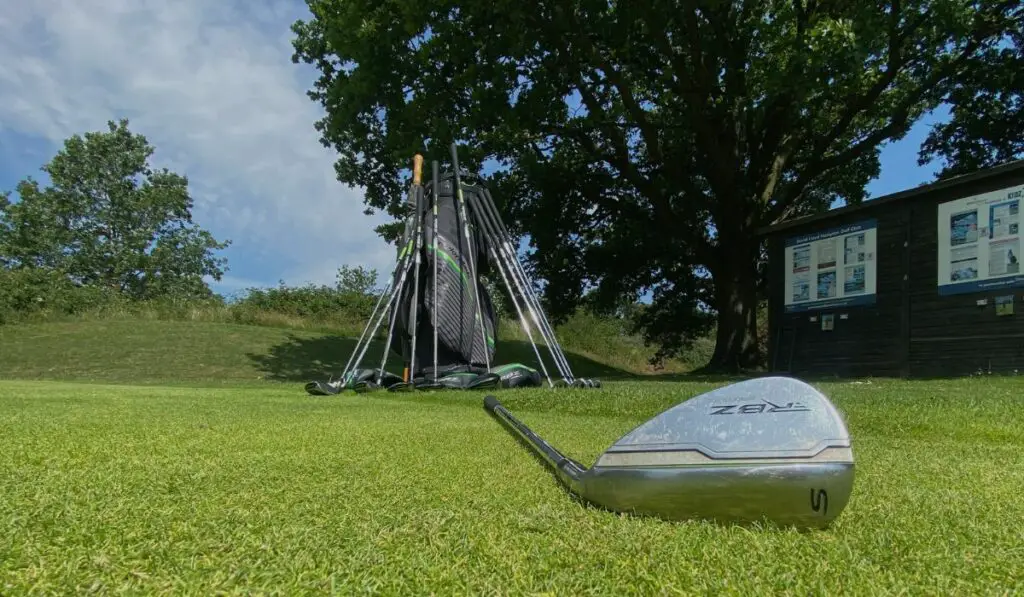 This set is a significantly higher investment than other beginner sets, but worth every penny and should last for years. Learn more about the TaylorMade RBZ Speedlite Set here. 
Closing Thoughts 
Hopefully, you have all the information you need to evaluate this beginner golf set.
These clubs from Wilson are one of the best options that you can get for a young player that's still exploring the game.
The Wilson Profile XD golf club set has lightweight but adequately durable clubs. Even though it comes with only ten clubs, it remains good enough for someone that's still learning the basics of the game.
Adding in a hybrid and SW is a game changer for beginners to learn some of the most important shots in golf. 
Finally, its quality and performance are beyond satisfactory for such an affordable price.