For many people, the idea of playing golf is very daunting. It's seen as an elitist sport that only the rich can afford to play. Although some golf courses are pricey, the majority of golf courses are affordable, meaning anyone can play. It is an amazing sport, but it is also one that is very hard to learn and can be intimidating for some of us, especially in the beginning. But the biggest question is – how do you start? My golf journey started two years ago and since then it has been a bumpy ride.
Golf had always been my interest but I never really had much of a chance to take it upon myself to learn the game. Only until a good friend of mine invited me to join him and play 18 holes to see if I liked the game, and I did, I got hooked! One thing that I learned along the way is in order to hit the golf course you will need a combination of skills, tools and commitment.
No matter how the road looks ahead though, if you have patience, an open mind, and can conquer some basic hurdles associated with being a beginner at something new – you'll find it more enjoyable than ever!
How Much Should You Spend on Clubs as a Beginner?
If like me you are lucky enough to have friends who play golf, just go with them and try their golf clubs. If not, or you have done that and you are also hooked I would recommend getting a second-hand set of golf clubs. I spent just below $100 on my first golf set which included 5 – 9 irons, an old driver, a putter, and a golf bag.
In an ideal world, we would all love brand new golf clubs but as a beginner, you don't need to spend a lot of money on a new set. If you do have some money to spend, you can pick up a reasonably-priced beginner set from Amazon and these clubs would last you a year or two whilst you're perfecting your game and exploring more expensive golf club options.
What Should I Carry in My Golf Bag?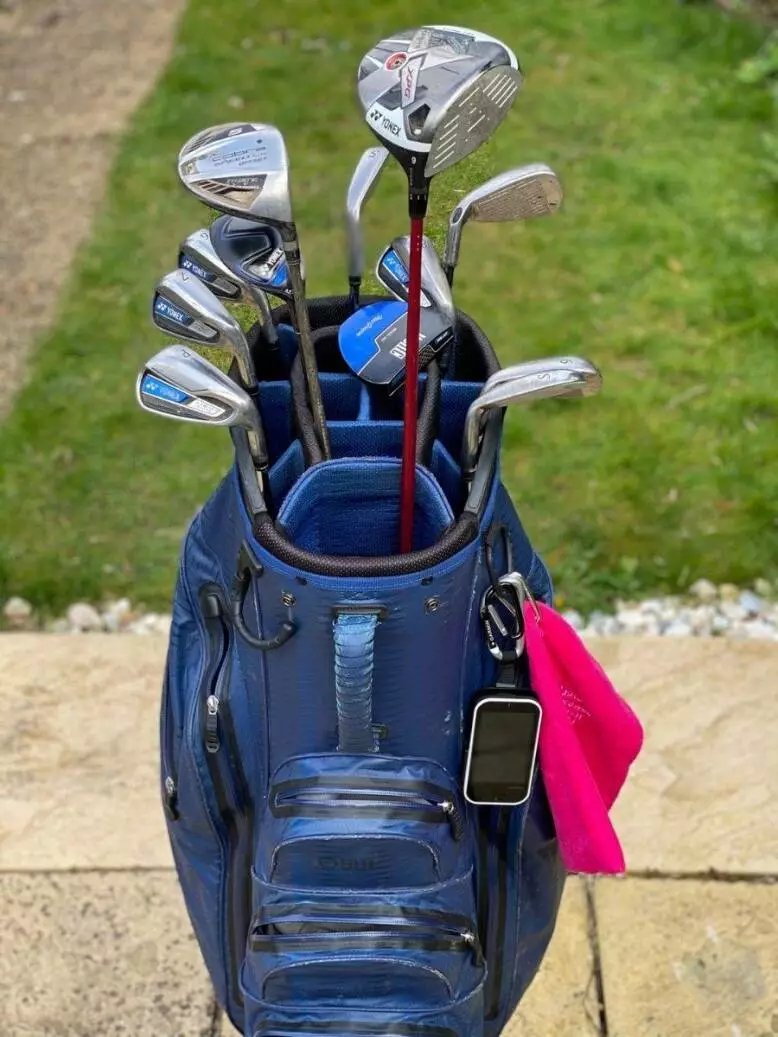 A full beginner's golf set has 12 clubs but I found that you don't need all of them in your bag and actually if you don't have a caddy to carry them for you it can get quite heavy! I found I only needed half of that number.
As a beginner, you do not need to worry about all of the different types of clubs or what they do. It is more important that you begin with the basics and get the hang of how to swing the club effectively.
I always carry a set of 5 to 9 irons, a driver, and a putter. I did try playing with the other clubs such as 3 wood and hybrid clubs but without a lesson, it made it more challenging to hit the ball.
Apart from the set of clubs, there should also be space for a bucket of tees, golf balls, golf towel, large umbrella, and sunscreen in your golf bag.
Related Article: Golf Clubs for Beginners: What Do I Need in My Bag?
Which Golf Balls Should I Use?
If I can be honest with you, buying expensive golf balls will not improve your performance especially when you are a beginner. It may sound harsh but you will be losing a number of golf balls in various hazards on the golf course, in the rough, and in other areas surrounding the course.
So why make the same mistake as me and buy high-performing golf balls when your end goal is to keep the ball in play?
I have quickly learned that the basic beginner golf balls such as Srixon distance will do the job and do not cost as much and saving on golf balls will give you the opportunity to invest in other areas of your game such as golf lessons.
Basic Rules of Golf and Course Etiquette
Golf is a very elegant sport that has been around for a long time. It can be a great bonding experience for a lot of people and there are ways to go about it without interrupting the other players on the course.
One of the first rules in golf etiquette is to arrive on time for your match. Make sure that you leave home with plenty of time for your travel, warm-up practice, and quick hot/cold beverage to stay hydrated.
The last thing you want is to be stressed out before you hit your first shot. Every golfer should always make sure to show respect towards the others by remaining silent when teeing off as well as on the putting green. When on the golf course take your time hitting your shot but not too much as this does often lead to slow play.
Good Golf Etiquette
While other golfers are out on the field playing around, a lot can happen. It's important to keep your eyes peeled and make sure you keep an ear out for what's going on around you.
Pay attention to where everyone is at all times. It's also important to never do anything that might distract another player from focusing on their shot. If your ball happens to fall into some deep grass off the course during play, let other golfers pass by as you seek it out.
You can speak but it's best not to yell or raise your voice as doing so could potentially distract someone from hitting a good shot.
Golf Attire
When it comes to playing golf, wearing the right clothes will apply to both men and women. The best golf attire is lightweight clothes and while of course, you want to look good, there are some basic rules you have to bear in mind.
Never wear a shirt without a collar, make sure that you don't wear jeans but khakis or golf slacks, and wear proper golf shoes and socks. You may wear golf shorts but not too short. Hats are okay and quite often you will be playing in direct sunlight so will become essential.
There are many online golf shops where you can find attire and accessories for prices that won't break the bank. To begin with, there is no need to heavily invest in fashionable clothing because nowadays golf has become quite trendy so if you know what you're doing, anything goes!
Do not forget, before you hit the golf course always check the dress code as every golf club has different rules.
Should I Go To a Driving Range Before Playing on the Golf Course?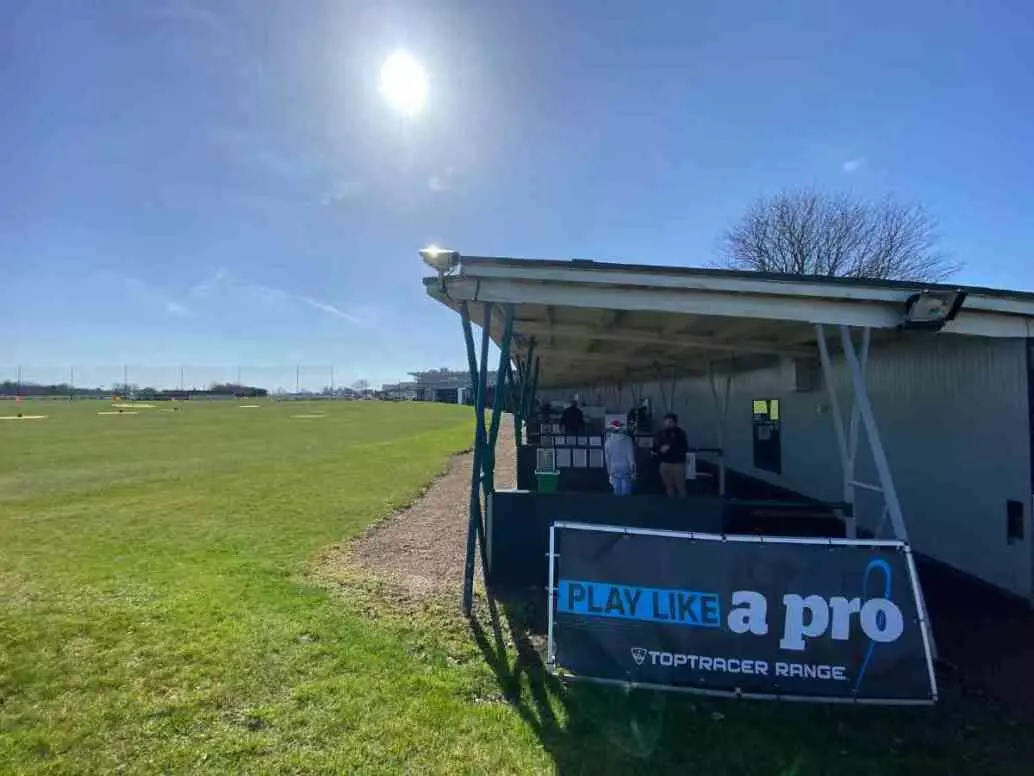 If you haven't played golf yet but you have all the clubs and you are eager to hit the course, I suggest you pause there for a moment. From my personal experience, I would suggest you go and hit some balls on the driving range first.
As a beginner golfer, you will most likely not know what yardages you can do with the individual clubs that you have in your golf bag.
I don't want to put you off hitting the golf course right away, but you will only do yourself a favor as most of us beginner golfers tend to lose golf balls when playing on the real course. Hitting golf balls at the driving range have helped me to boost my confidence.
You must remember that there will be people like you, who are just starting with golf, and there will be people who go there on regular basis with more experience that could give you some tips and advice on what you need to work on.
Some of the driving ranges offer group lessons for beginners and these are often cheaper than individual lessons with a Golf Pro. Once you are happy with your progress and have a better feeling on how far you can hit the clubs in your bag, you are ready to hit the golf course
Final Thoughts
Getting into playing golf in 2021 can be really easy with the right tools commitment and patience. All you need to start playing golf is some older set of clubs, reasonably priced golf balls, a bucket of tees.
Before you hit the golf course spend some time at the driving range, see if you can get some advice from the other golf enthusiasts and when you feel that you are ready to hit the ground, go for it!