Paige Spiranac is an American social media personality, golf instructor and former professional golfer. She played college golf at the University of Arizona and San Diego State University, winning All-Mountain West Conference honors during her collegiate career.
Her professional golf career has included playing on the Cactus Tour and competing in the Ladies European Tour, as well as attempting to qualify for the LPGA. Paige's Instagram page has over 3.7 million followers and her youtube channel has over 315,000 subscribers.
So, what's the gear that powers Paige Spiranac's game? Let's take a look.
Paige Spiranac What's in the Bag
Bag: Bag Boy Stand Golf Bag (Prototype)
Driver: Titleist TSI 3
Woods: Callaway Rogue 7 wood, Callaway Epic 3 wood, Callaway Epic 5 wood
Irons: Mizuno JPX 921 (4-PW)
Wedges: TaylorMade (48, 54, and 58 degrees)
Putter: SWAG Savage Too
Golf Balls: TaylorMade TP5
Training Accessories: Alignment Sticks
Range Finder: Shotscope Pro LX+ Rangefinder
Golf Towel: Devant Sport Towels (So Naughty Towel, Happy Place Two-Way Towel)
Golf Gloves: Various Colors, G/Fore brand
Bag Boy Stand Golf Bag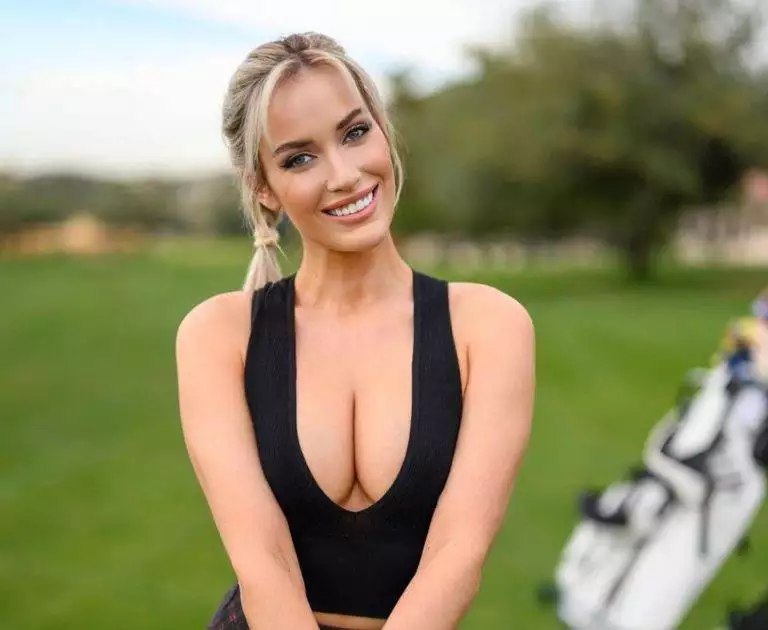 In January 2020, Paige made an announcement on her Facebook page that she was making a switch to a new golf bag. She had been using a bright pink Vessel stand golf bag but decided to replace it with a mint green option.
"Have you heard? Neo-mint is projected to be the hottest color of SS20. Stay ahead of the game with our Neo-Mint Lite Stand bag!" Paige Spiranac
Fast forward to 2023 and Paige is carrying a bright white Bagboy golf bag. She has been working closely with Bagboy to design the perfect golf bag for her and to provide fans with a similar option.
Paige is currently carrying a prototype of her new Bag Boy Stand Golf Bag as the BagBoy team continues to work on some really cool features for the final build.
The bag is made with lightweight materials and has a sleek design, perfect for any golfer looking to make a statement on the course.
Golf Clubs
Driver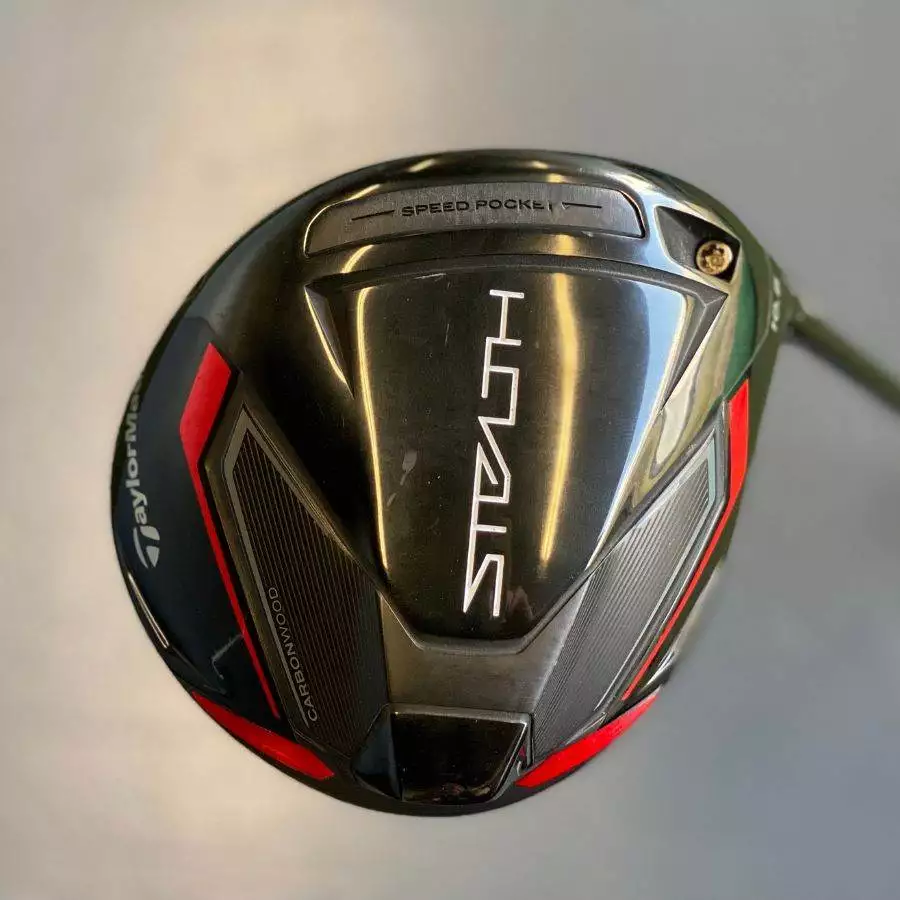 The Taylormade M4 driver was Paige's go-to driver for the longest time because of its consistent performance. She had been using the driver for years and even when she switched to other models, like the Ping driver, it didn't quite measure up to the power and accuracy of the M4.
When the TaylorMade Stealth came along, Paige was intrigued by the promise of gaining some extra yardage from the driver.
The TaylorMade Stealth driver has a carbon fiber crown that helps reduce drag and increase speed, as well as a new face shape for more forgiveness on off-center hits.
She gained some yardage and consistency but decided to look for more improvements and opted to try out the Titleist TSI 3 driver.
Paige did a Youtube video testing the TSI and it was seen that she was getting a little more yardage with this driver than the Stealth. Therefore the Titleist TSI 3 is now officially in her golf bag and she is looking to improve her game with it.
One thing that has remained constant is the grip of choice, which is a Grip Master grip on her driver to give her the most comfort and control with each swing.
Woods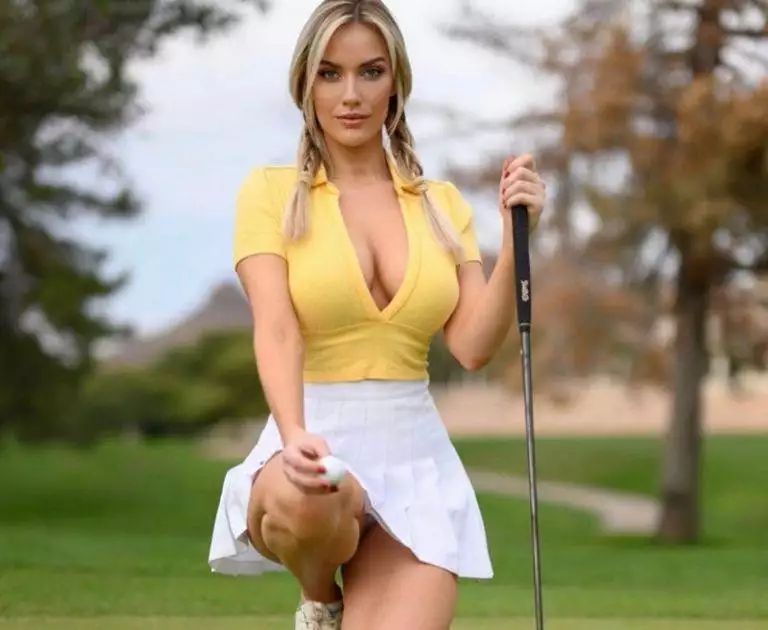 Moving on to the woods, Paige made the switch from Titleist hybrid to Callaway Rogue 7 wood with Mitsubishi shaft and Grip master grip.
She loves the 7 wood and although she only had it for a few weeks now, she feels it's better than the hybrid in terms of accuracy and control.
The other two additions to her bag are Callaway Epic 3 wood and 5 wood and both in the same shaft and grip.
Everything is consistent across the board when it comes to her woods, so the transition between the clubs is effortless.
Irons
Paige is a Mizuno Gal and she swears by her Mizuno irons. She has been using the Mizuno 919 set for a while now and loves the feel, control, and accuracy it provides.
When the new third-generation Mizuno irons came out, she was quick to give them a try and eventually decided to switch over.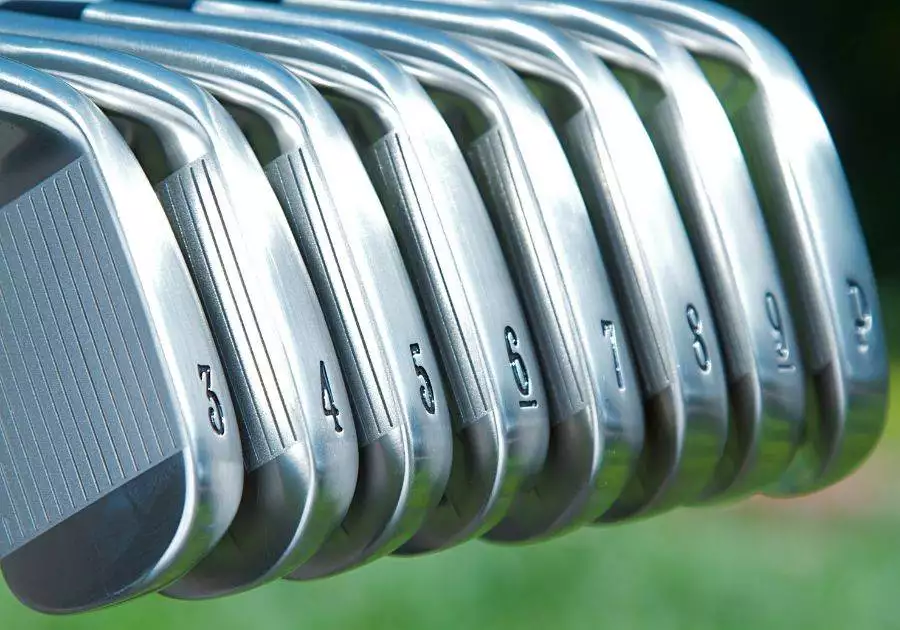 Paige was extremely pleased with the extra yardage that the Mizuno JPX 921 irons gave her as since she moved away from professional golf, she has noticed that she's lost a bit of her yardage performance.
The Mizuno JPX921 set is what she currently plays and has been for the last few years.
Her iron set consists of 4 iron through to PW but she despises the 4 iron and prefers the 7 wood that she is obsessed with.
The 3rd Gen Mizuno irons use Chromoly material that is lighter and stronger than the traditional steel irons, providing players with better speed and distance.
The Mizuno JPX 921 hot metal irons are the best iron set for Paige as they giver her the extra distance and maximum forgiveness that she needs for her game.
And as with all of her clubs, she has the same Grip Master grip on all of her iron set too.
Wedges
Paige's wedges are unique and a reflection of her personality as they are stamped with small pink hearts, which represent her feminine flair and her love of her dog Niko.
She carries 48, 54 and 58 in her TaylorMade wedges, with the 48 being used mainly around the greens. Paige uses her 48 degree wedge mainly around the greens, allowing her to have greater control and accuracy with her shots.
She opts for the 58 degree wedge rarely, as the extra spin can sometimes be a little too much for her to control as accurately as the 54 degree wedge. Although in a case of fast greens she would opt out for the 58 degree.
Related article: Do I Really Need a Sand Wedge in My Golf Bag?
Putter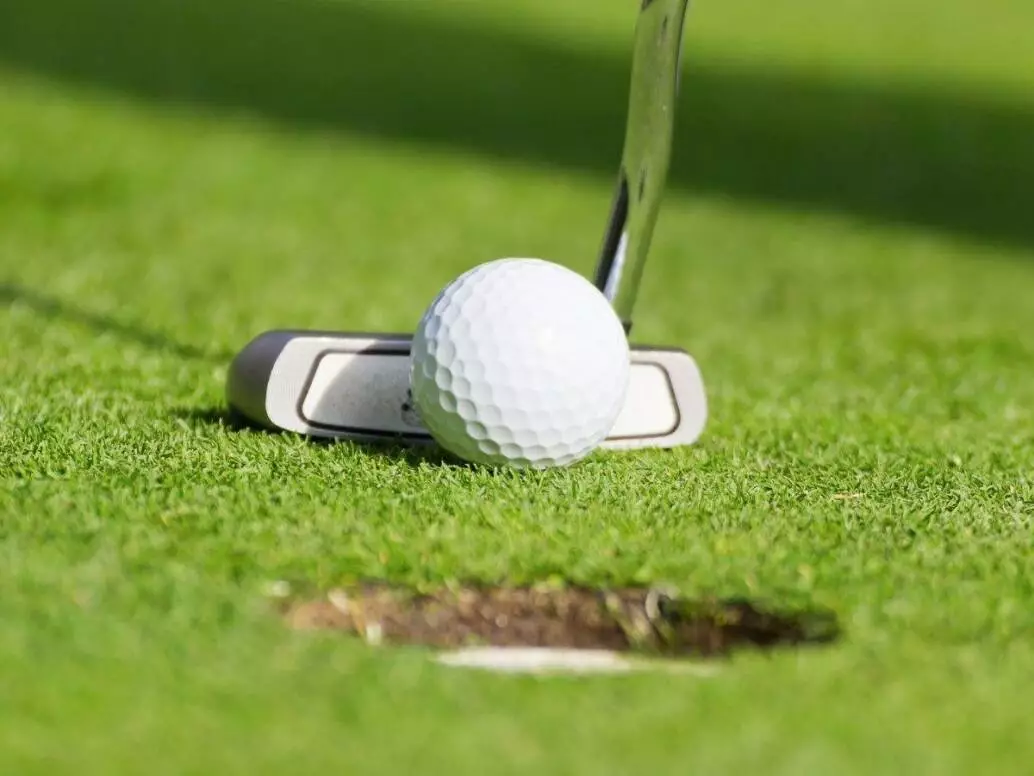 Paige Spiranac is thrilled to collaborate with SWAG, a company that not only pushes the limits of innovation but also produces striking, edgy designs unlike anyone else.
As one of the most progressive golf equipment companies in the industry that prioritizes cool aesthetics, she's excited to put their gear to the test and add some extra flare to her game.
The Savage Too has been refreshed for 2022, complete with new engravings and a deeper-cut fly-milled face that promises a responsive sound and feel at impact.
This putter is the perfect compact mallet for golfers looking for a low offset design and classic look at address, but who may not be ready to commit to a traditional mallet just yet.
With the heavier 365g head weight and deeper face milling, Paige is certain to get an incredibly stable putter that will stay with her long after she's off the course!
She can't wait to show it off on the golf course and make a statement while doing so. It's sure to be the perfect combination of performance and style that will bring her game to the next level.
Golf Bag – Miscellaneous Items and Accessories
Golf Balls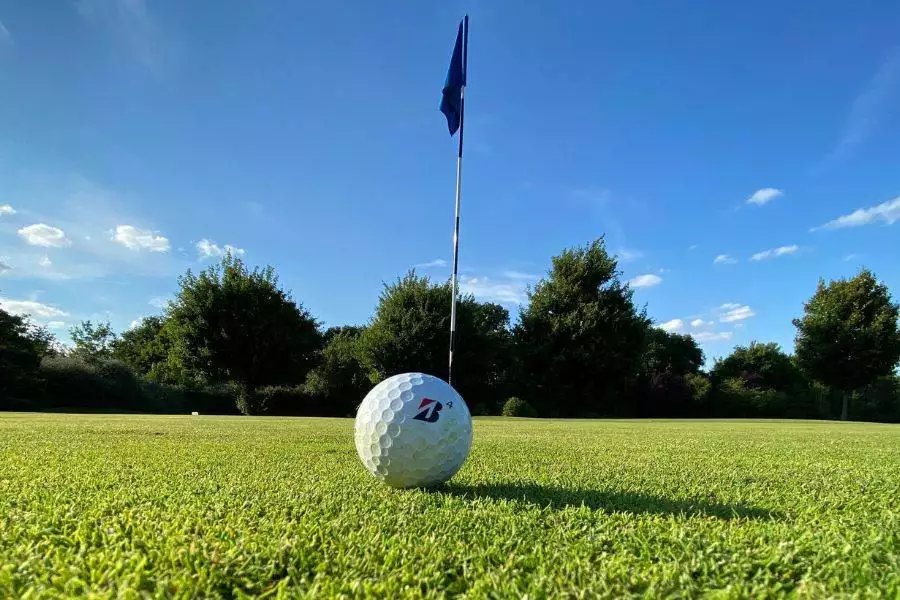 Without a quality golf ball, Paige would not be able to play her best. She has pretty much hit every single golf ball in her career, but currently carries Taylormade TP5's in her bag.
The TP5 has a two-piece construction with a soft inner core and an aerodynamic outer cover that gives it low spin off the tee and excellent control around the green.
It also features TaylorMade's patented 5-layer construction with a soft inner core and durable outer cover that helps increase ball speed for an optimal launch.
Alignment sticks
Paige has been carrying alignment sticks in her bag since she was first introduced to them by Leslie Spalding, one of the Women's Golf coaches at San Diego State University.
She uses them to help create a proper golf swing and stay aligned with her target, practicing regularly with them to maintain accuracy and consistency in her game.
By using them, Paige is able to focus on what she needs to do and stay focused when it comes time to hit her shots. Alignment sticks are a great practice tool that can help any golfer, no matter their skill level.
I have them in my bag too and recommend them to anyone looking for a way to improve their game.
Range Finder – Shotscope Pro LX+Rangefinder
To become the best player she can be, Paige relies on data. Data helps her to stay focused and understand where she needs to improve.
She carries a Shotscope Pro LX+ rangefinder in her bag that gives her data-driven insights and performance-tracking capabilities like never before.
The device tracks every shot you take during the round, giving you an in-depth look at your game.
The rangefinder also helps Paige to maximize her distance and accuracy on the course, as well as helps her make smarter decisions while playing.
With its state-of-the-art technology, Paige is able to see exactly how far she's hitting each shot in real time and learn from her misses.
By using the Shotscope Pro LX+, Paige is able to make improvements in her game and manage her long-term performance.
It's an invaluable tool for any serious golfer and one that Paige has been using regularly.
Golf Towel
Paige is an ambassador for Devant Sport Towels and loves to use their golf towels on the course. It's made with soft, luxurious microfiber that is extremely absorbent and fast-drying.
This helps her keep her clubs clean when she needs to make a shot in wet conditions.
The towel is lightweight, so it won't slow her down or take up too much space in her bag. Paige Spiranac and Devant have partnered to produce an incredible line of towels, perfect for any golfer.
The So Naughty Towel is a humorous parody of the famous scene from Happy Gilmore, reminding golfers to check their attitude and keep their clubs clean. This towel is made of high-quality microfiber that is incredibly absorbent and dries quickly.
The Happy Place Two-Way Towel helps golfers focus on the best outcome and keep their thoughts positive.
There is more to come and we are excited to see what the future holds for Paige and Devant.
Golf Gloves – Various Colors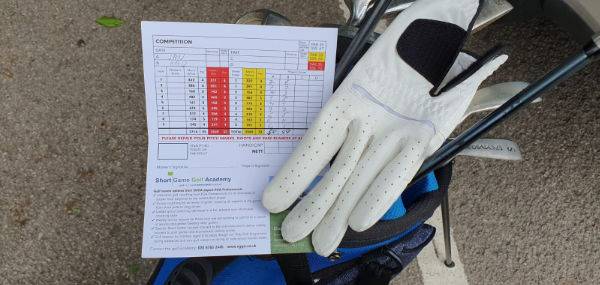 If you've seen Paige's videos, then you know that she loves to add a bit of style to her golf game with a variety of different outfits.
To complete her looks and protect her hands while swinging the club, Paige has a wide selection of golf gloves in her bag.
From black, blue, green, pink you name it she probably has it in her bag. Each glove is made from breathable, stretchable materials that provide support and comfort on the course.
The G/Fore gloves are also made from 100% Cabretta leather, making them flexible and durable.
Paige loves to switch up her gloves for every round, letting her express herself and stand out on the course. With such a wide variety of colors, there's sure to be one that fits Paige's style.
Conclusion
Paige Spiranac is an excellent example of how golfers can use the latest technology and gear to improve their game.
From alignment sticks to rangefinders, the latest driver and irons, Paige has it all in her bag.
With these items, she's able to focus on what she needs to do while staying stylish at the same time.
By using data-driven insights from the Shotscope Pro LX+ rangefinder and keeping her clubs clean with Devant Towels, Paige is able to maximize distance accuracy as well as make smarter decisions during a round of golf.
We look forward to seeing more innovative products being added to Paige's arsenal in the future!
Related Article: Claire Hogle's Golf Bag: What's in It and How Far She Hits Each Club