Stewart Cink is an iconic golfer, but what do you know about his family? This article is dedicated to Stewart Cink's wife Lisa Cink. 
Lisa Cink is a philanthropist and a cancer survivor. She shares her husband's success and fame.
Read on for more information about her bio, profession, family life, net worth, and more. 
Quick Facts
Before we delve deeper into the life of Lisa Cink, here are some quick facts about her: 
| | |
| --- | --- |
| Full Name  | Lisa Cink  |
| Gender  | Female  |
| Date of Birth  | April 1973  |
| Age  | 50   |
| Place of Birth  | Alabama, USA  |
| Place of Residence  | Atlanta, Georgia  |
| Height  | 5′ 8″  |
| Spouse  | Stewart Cink  |
| Children   | Connor and Reagan Cink  |
Bio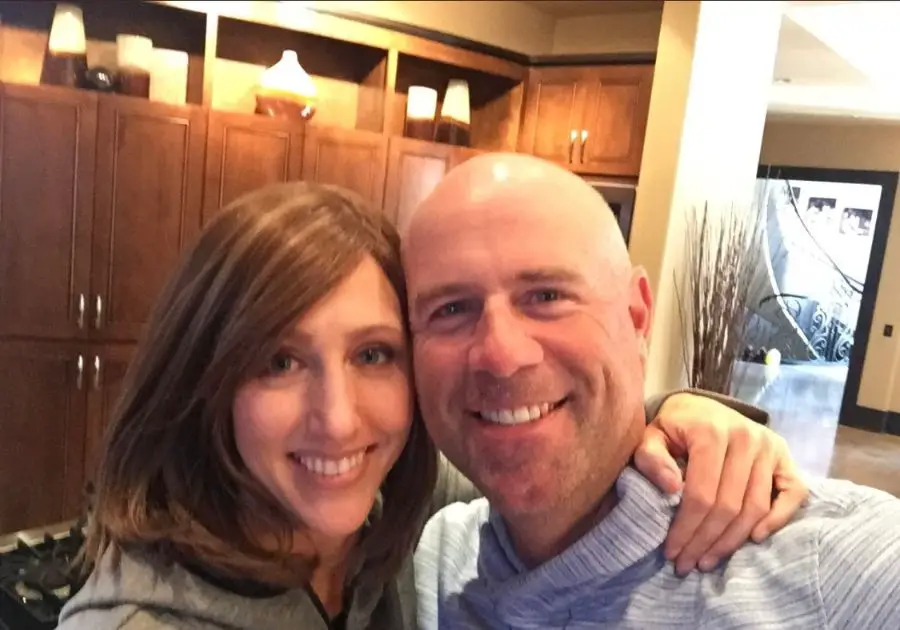 Lisa Cink was born and raised in the South of the USA. She was born in Alabama in April 1973.  
As a teenager, she attended Bradshaw High School in Florence, Alabama. In high school, she met her husband Stewart Cink. 
After high school, she went to Auburn University. Then, she decided to transfer to Georgia Tech to be with Stewart Cink. That decision came after she realized how much he meant to her. 
She is a mother of two, Connor and Reagan. She has been happily married to Stewart Cink for almost 30 years now. 
Lisa and Steward Cink's Relationship
In 1993, Stewart and Lisa Cink got married. They were still sophomores in college. This hasty decision resulted from Lisa's unexpected pregnancy with her son Connor. 
Before they got married, they were close friends. The funny thing is that Stewart used to date several of Lisa's friends. She even set him up with other girls. 
Upon graduating high school, they parted ways to go to college. Yet, this didn't last long as Lisa transferred to Georgia Tech to start dating Stewart. 
The turning point was when Lisa went on a date with another guy in college and wished to be with Stewart instead. This is when she found out that their relationship was more than a deep friendship. After that incident, Stewart and Lisa became inseparable. 
Lisa managed to finish her degree in Molecular Biology despite her new responsibilities. After graduation, she decided to spend her time caring for her family and her husband's career. 
Lisa Cink's Children
Lisa and Stewart Cink have two sons, Connor and Reagan. 
Connor Cink 
Connor was born on September 13th, 1993 shortly after his parents' wedding ceremony. He participated with his dad in several father/son tournaments.  
In 2013, the father-son duo won the father/son challenge at the PNC Championship. At that time, Connor was only a freshman at Clemson University. 
Reagan Cink 
Like father, like son. Reagan Cink graduated from Georgia Tech in 2020 with a degree in Engineering. 
Interestingly, he didn't pursue a career in his field. Instead, he caddied for his father in major PCA tournaments. 
In July 2021, he got married to his fiancee Olivia Lockhart. The couple, now, lives together in a townhouse in Northern Atlanta.  
This significant life change called for a new career path that allowed Reagan to be closer to home. Thus, he quit caddying for his dad and decided to pursue a new path. 
Lisa Cink Net Worth
Lisa Cink has an estimated net worth of about one million dollars. She has accumulated this wealth by starting her own business.  
She joined two of her neighbors to open a sportswear boutique. Their boutique, Spoiled Sport, was a great success in Duluth, Georgia.  
Lisa Cink the Philanthropist 
Lisa Cink is known for her work as a philanthropist. Together with her husband, they have established a charity organization, namely Cink Charities Inc. 
They conduct charity in different venues. For instance, Lisa and Stewart offered $183,000 as a gift to the University of North Alabama (NAU) in 2012.  
Additionally, they've launched the Stewart and Lisa Cink Scholarship Endowment Fund. This fund is dedicated to Florence High School graduates. 
In addition, the couple has also started the Cink It Challenge. It encourages people all over the US to help several charity organizations. 
Recent Health Problem 
In 2016, we all heard the sad news of Lisa Cink's diagnosis of stage IV breast cancer. 
This unfortunate news led Stewart Cink to step down from his golf throne to be closer to his wife. The golf star dropped the Wells Fargo Championship and canceled his PGA tour in 2016. 
By the end of that year, Lisa had shown signs of winning her battle against cancer. Her treatment showed significant results after about nine rounds of chemotherapy. 
Fortunately, this led to a new phase of treatment. Later, she appeared again in December 2016 as the caddy for her husband in the Father/Son Challenge of PCA. 
Lisa Cink's House 
Lisa and Stewart Cink now live in Atlanta Georgia, but they own several other homes. 
For starters, they have a house in South Carolina by Lake Keowee. They have another house in the Villages' retirement area in Florida. 
However, their masterpiece is the house they built themselves in Duluth, Georgia. In 2002, the couple paid about $425,000 to buy an area of land in Sugarloaf Country Club. This is a prestigious exclusive community with golfing facilities. 
Five years later, in 2007, they built a European-style mansion entirely of stone. The house is crowned with a beautiful concrete tiled roof. 
Extending over 11,000 square feet, the house features a spiral staircase that's three stories high. It also includes three ensuite bedrooms, two regular bedrooms, and nine bathrooms. Besides, the house is equipped with several pools and a state-of-the-art kitchen. 
In 2020, the couple listed the house for about $4 million. 
Conclusion 
Stewart Cink's wife Lisa Cink is a philanthropist and entrepreneur. Lisa's net worth is about one million dollars. This wealth comes primarily from her sportswear boutique. 
She and Stewart Cink have a long history together, which makes them rather close. They formed a happy family with their two sons Connor and Reagan. 
As a cancer survivor, Lisa Cink understands the importance of helping others. She takes pride in being a philanthropist.