Winter can be a difficult time to stay motivated to work on your golf game. The weather is cold and often unpleasant, and the days are shorter. It can be hard to find the time or energy to get out and practice.
But even during the winter months, there are ways you can improve your golf game. You can try hitting some balls indoors at a driving range, or working on your putting and chipping in your backyard or at a local park.
With a little bit of effort, you can maintain your golfing skills throughout the winter and be ready to hit the green when spring arrives!
Practicing Your Swing in A Garage or Basement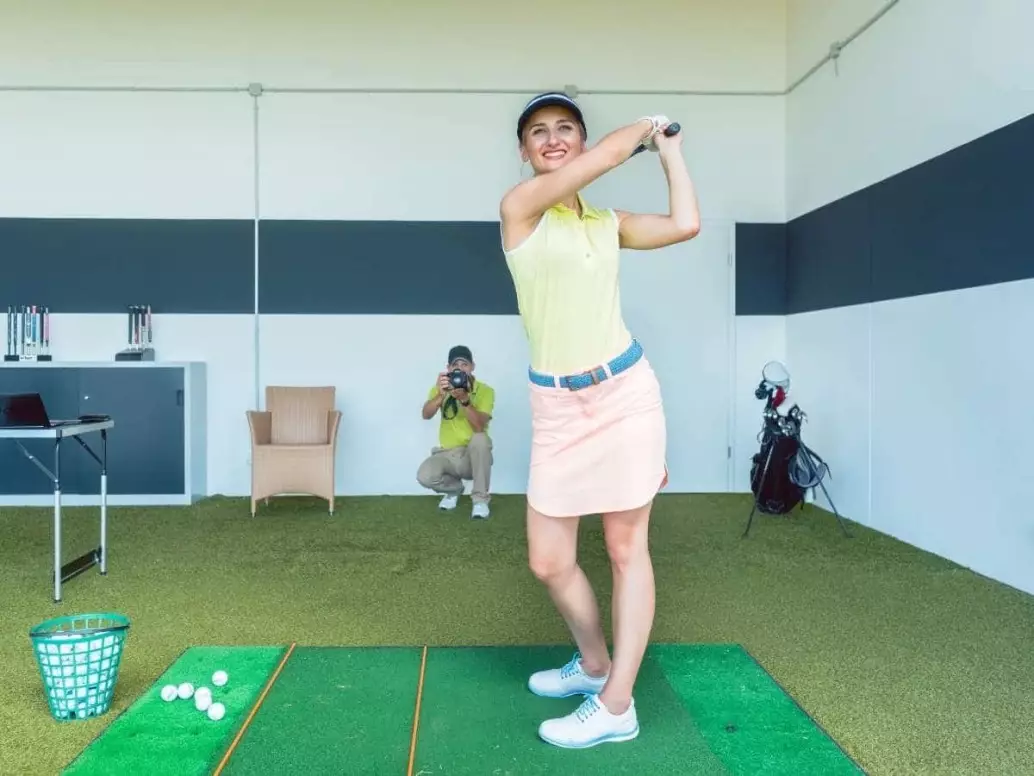 If you are lucky enough to have a garage or basement, you can use this area to work on your swing. All you need is enough room to stand up straight and move around while keeping the club at shoulder height.
In order to get you started, you would need a personal portable golf monitor, golf net, mats, and some range golf balls. Most of these are available on Amazon. The personal monitor can be used to help you with your aim and measure the distance of your shots. And the golf net will keep the balls from flying out of control or breaking things in your home.
You can use the mats to make teeing off easier and extra safe, and you would want to get some range balls so that you have something lightweight and easy to hit.
Improving Your Swing
The key to improving your swing during the winter months is to maintain your muscle memory. You want to make sure that you are still working on your swing, but at the same time not straining yourself too much.
Put a little bit of effort into practicing your golfing skills. Once a week, work on standing in front of your golf net and hit some balls at it. Just keep your body relaxed and try to maintain the same speed and flow that you would have when you're out on the course.
The portable golf monitor will give you instant feedback on your stance, clubhead speed, angle of attack, and tempo. This will help you learn how to make little adjustments to your swing in order to improve.
Short Game Practice
In addition to practicing with the monitor, you can also work on your short game using the same equipment in your garage or basement. Mastering your short game will help you improve your score next time you head out to play.
Repeating is the key and it will help you to improve. Just like practicing a new dance move, the more you do it, the better you'll get. The winter is a great time to work on your short game and be ready for next season!
"Even though the weather may be colder, there are still ways to get in some practice and improve your skills." – Nick Faldo
Chipping and Putting Indoors to Improve Your Skills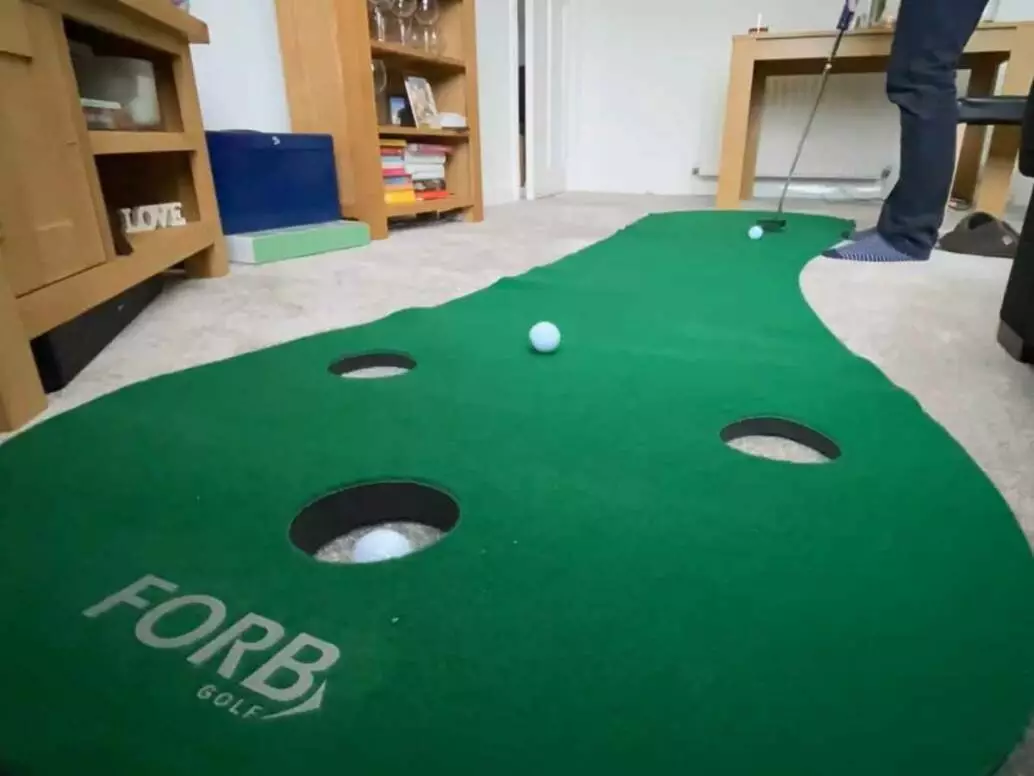 One of the best ways to maintain your golf game during the winter is to practice your chipping and putting indoors. You don't necessarily need any extra equipment and to save money you can simply practice putting on your living room carpet. But for those with laminate flooring, I would recommend purchasing an indoor putting matt.
Putt out is also a great additional piece of kit that helped me improve my putting. It's light and easily foldable for transportation and storage.
Finally, you can also improve your golf by practicing your chipping. You can do this indoors by using a foam pit, or outdoors by using a bucket of sand or rice. Last winter I have ordered foam balls that can be used indoors and have been a huge success. Not only did they not break anything and haven't left any marks, but it's also a great way to practice your short game.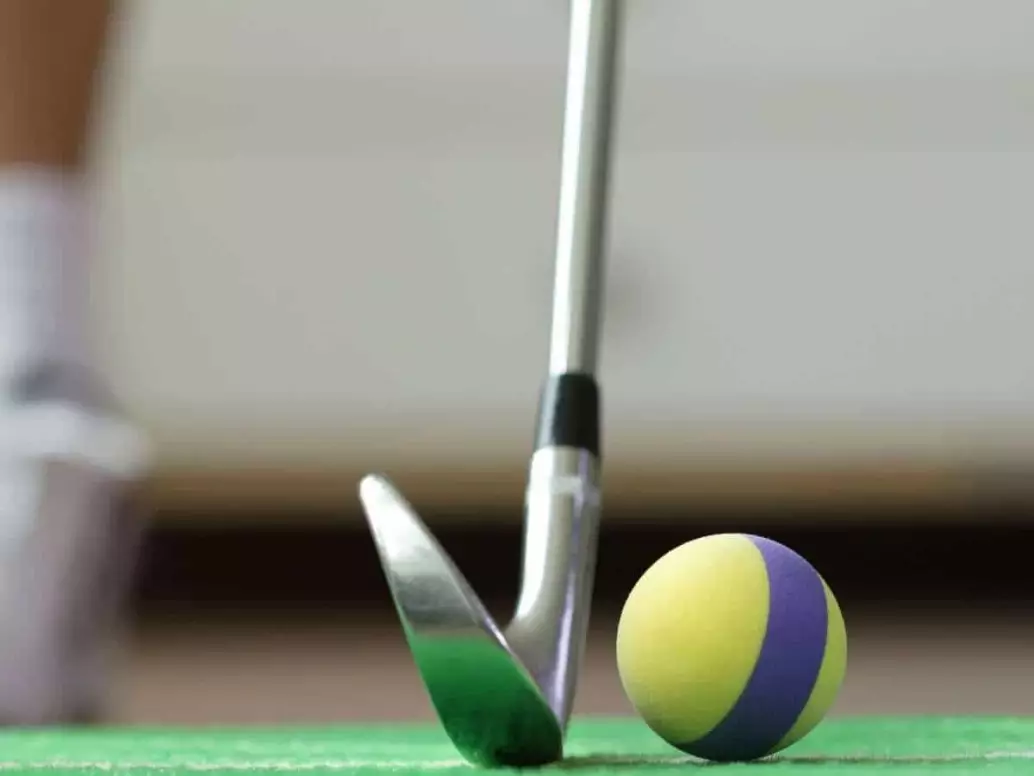 Taking Online Golf Lessons from A Pro
Online lessons from a pro are a great way to improve your game and save some money! If you think about it, when you take lessons from a pro in person, you're paying for their time and travel expenses. By taking an online lesson, all of that is figured in with the price of the lesson.
It also gives you the opportunity to have a full one-on-one lesson from a pro without worrying about being late, and all of your questions can be answered and problems solved until you get it right. This type of instruction is more convenient and gives you the freedom to go over things multiple times until you get it.
Online lessons are convenient, affordable, and come with interactive tools that help communicate effectively between you and your instructor. So if you're looking for ways to improve your game this winter season, try taking online golf lessons from a pro!
Putting in Extra Time on The Driving Range During the Winter
The advantage of driving ranges is that they are indoors, so you don't have to worry about the weather ruining your game. Indoor driving ranges are often equipped with simulators and other high-tech machines that can help you maintain your swing.
The technology available at indoor ranges is extensive and can include:
·  PGA Trainers or Coaches to Give You Feedback on Your Swing
·  Swing Analyzers to Help You Perfect Your Tempo
·  Putting Simulators that Allow You to Practice Strategies and Play Virtual Courses
I personally love playing different virtual golf courses with my friends while we are at the range. It's a great way to pass time and improve your game simultaneously.
The key is not letting yourself get rusty and giving up on this great hobby!
Conclusion
Winter can be a challenging time for golfers. But with the right preparation and commitment, you can maintain your skills through this winter season! Whether you're practicing indoors or outdoors, there are a number of ways that will help keep your game sharp while it's cold outside. We hope these tips have been helpful to get started on maintaining your swing during the colder months ahead. If all else fails and you need some extra motivation to keep going, think about how much better it'll feel when spring finally arrives!