With his interest in golf sparking up from a young age, Dustin Johnson has built a reputation for being the best in the sport. 
And as the years passed, he managed to rack up many accolades to his name, like the number-one golfer title. Because of this, he succeeded in building a fortune of almost more than $100 million! 
Today, we'll take a closer look at Dustin Johnson net worth, personal life, and career. So, without further ado, let's start! 
Early life
Dustin Johnson was born in Columbia, South Carolina, on June 22, 1984. He's currently 38 years old, weighs around 190 pounds, and stands 6.3 feet tall. 
Dustin is the son of Kandee and Scott Johnson, as well as the brother of Austin and Laurie. 
His parents divorced in the 90s, which led to Dustin moving in with his father and occasionally visiting his mother.  
Of course, because of his father's love for golf, Dustin soon found himself surrounded by driving ranges and golf balls at an early age. Eventually, he decided to take up the sport for himself.  
As a matter of fact, he started playing collegiate golf while majoring in sport management at Coastal Carolina University. 
Golf Career
Dustin's golf career began in 2007, and it continues to this day. To give you a more comprehensive view of his career, here's an overview: 
2007–2010
Dustin won the Monroe Invitational and Northeast Amateure in late 2007. He also played on the Walker Cup and Palmer Cup teams that won in 2007.
By the end of that year, Dustin had already turned pro at just 23 years old!
Dustin finally earned his PGA tour card in 2008 by finishing in a tie for 14th place at the 2007 qualifying school in December. After that, it seemed like Dustin was on a winning streak.
First, he won the Turning Stone Resort Championship and followed that up with another win at the AT&T Pebble Beach National Pro-Am.
A year later, he was announced as the 15th highest paid-golfer on the PGA. Sadly, when 2010 rolled around, his winning streak suffered quite a bit in the PGA Championship and the 2010 U.S. Open.
However, Dustin managed to make it to the headlines when he won against former world number one David Duval at his second AT&T Pebble Beach National Pro-Am.
Furthermore, he secured another win At Cog Hill during the BMW Championship. As a result, by the end of the 2010 season, Dustin Johnson had advanced from being number 15 on the PGA list to 4th.
His next season proved more fruitful as he excelled at the 2011 Open Championship in England by tying for second place. When he won the PGA title at the Barclays, Dustin became fourth in the world rankings.
2012–2014
At the start of his 2012 season, Dustin personally announced that he'd be missing playing in the Masters because of a back injury. Unfortunately, that injury resulted in Dusting being sidelined for two whole months.
After his recovery, he returned to compete in the Memorial Championship in Ohio. One week later, he won his sixth tour, the FedEx St.Jude Classic in Tennessee.  
Despite Dustin's small bout of bad luck in 2012, he recovered in the 2013 season. He won the Hyundai Tournament of Champions and the WGC-HSBC championships.
In 2014, the press almost went wild when Dustin stated that he'd be taking some time off from his career. He seemed to be going through some "personal challenges" and needed the time to sort through them.
Of course, rumors started to circulate, the biggest one being that he was suspended for drug abuse. This was the result of Dustin testing positive in a couple of drug tests back in 2009.
However, this wasn't the case; he simply stepped down and wasn't suspended.
2015–2022
Dustin started to claim his old career back slowly and ranked among the top 15 in the world rankings in 2015.
He continued his hard work the following season, winning the U.S. Open, BMW Championship, and World Golf Championships-Bridgestone Invitational!
In 2017, Dustin finally earned the number-one ranked golfer in the world title after winning the Genesis Open by just five strokes. Only Jack Nicklaus and Tiger Woods had done so before him.
In the following seasons, Dustin won the 2019 WGC Mexico Championship and the 2020 Travelers Championship.
By the end of May 2022, it was announced that Dustin would be joining the PGA's number one rival, the Liv-golf league, with a payment of $125 million.
As a result, Dustin lost his primary sponsor, the Royal Bank of Canada.
Personal Relationships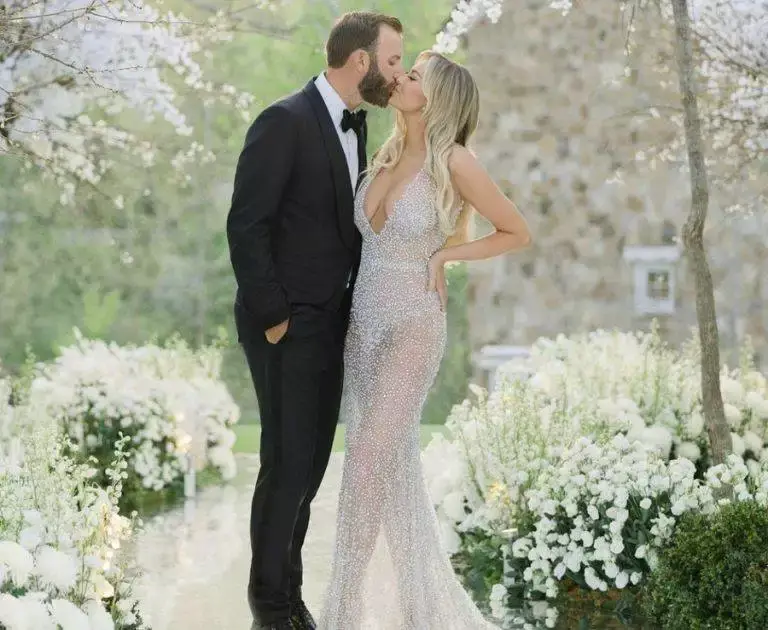 Dustin began dating Paulina Gretzky — daughter of hockey player Wayne Gretzky—in 2013.
The couple knew each other for a few months before their engagement later that same year. They tied the knot in 2022 with two beautiful kids—Tatum and River— in tow.
Besides his marital life, Dustin seems to be also close to his family. This became apparent as he made his brother, Austin, his caddie, so he could enjoy the extra time with him.
Quick Facts and Net Worth 
As of January 2023, Dustin Johnson's net worth is around $100 million. In addition, he has various assets, including a couple of properties in Florida and a private island.
Moreover, because of Dustin's passion for golf, he decided to start a foundation in 2010. This foundation mainly supports college and youth golf programs as well as youth projects.
He also participates in various charity gold games where the money usually goes to help alleviate current issues.
Wrapping Up 
So, are you still wondering about Dustin Johnson net worth? Hopefully not!
As we mentioned, his net worth is around $100 million, which he made throughout his career as a professional golfer. He's also a philanthropist who supports various issues, most notably the college and youth golf projects.
Dustin is definitely a great role model for other golfers and athletes. He combined his love of golf with his passion for giving back to the community.
We can't wait to see what he does next!