If you're a golfer, you know there's nothing better than having access to the course whenever you want.
So unless you have a golf course on your property, the next best thing is to mimic the experience at home.
Whether you want to improve your skills to shoot lower scores or just want to have some casual fun, this guide is for you!
Today, we're reviewing the 11 best home golf simulators and sharing a detailed buying guide to help find the right setup for your golfing needs.
Our Reviews of the Top Golf Simulators For Home
After dozens of hours of researching and testing, we've decided on the following 11 candidates as our top picks for the best home golf simulators on the market.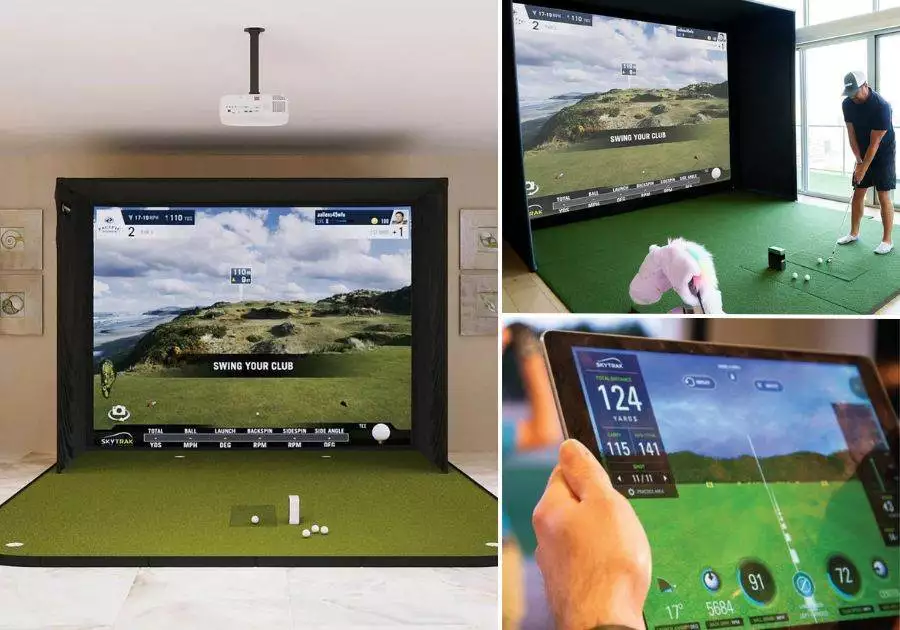 The SkyTrak golf simulator coupled with the SIG10 system is one of the best-performing units on the market. You may like it even more when you learn that it's also one of the less expensive models on today's list.
Combining quality and functionality, it's no surprise that this package has quickly become a best-seller among golf enthusiasts.
So, what do you get?
Included with the SkyTrak golf simulator SIG10 package are the SkyTrak golf launch monitor and handcrafted SIG10 enclosure and screen.
Together, they provide you with a very accurate reading of your shot data for precise skill assessment with real-time visual feedback.
You also get the Play & Improve plan and a 1080p golf simulator projector with a ceiling mount. This software is the company's highest tier, complete with 12 World Golf Tour (WGT) courses
You also receive your choice of hitting mat (either SIGPRO or Fairway), a side barrier netting, a landing pad turf, cables, and a metal protective 13-gauge steel travel case.
Ideal for home use, this golf simulator is compatible with iOS, Android, and Windows devices.
The recommended room dimensions to fit it are 18 feet deep, 9 feet high, and 12 feet wide. A larger space is always welcome though!
Pros
Convenient to move
Instantaneous 3D analysis
Impressive value for money
Comes with Play & Improve software plan
Cons
Setup can be a bit complicated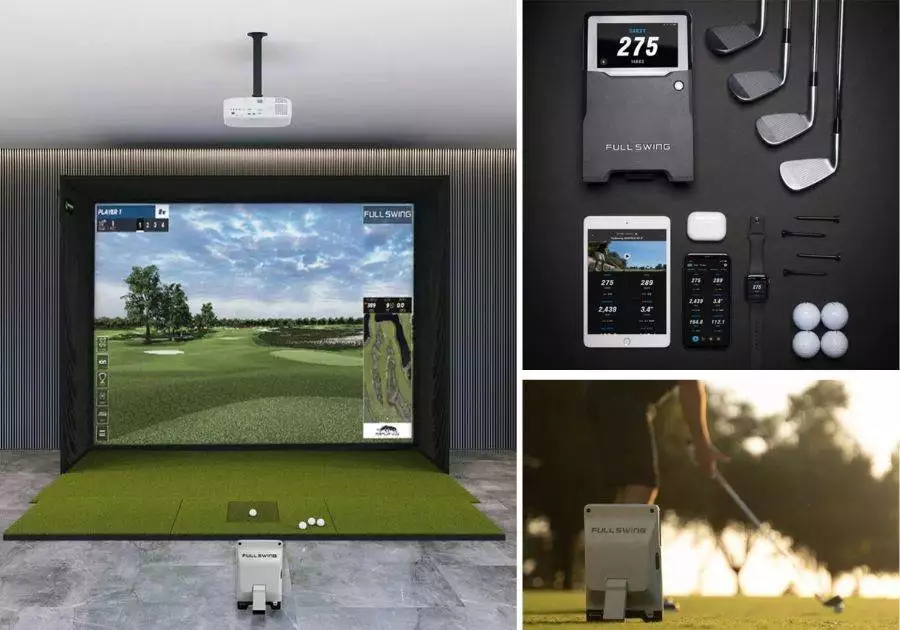 Featuring the Full Swing KIT, this simulator is one of the most popular models in the history of the industry.
'Why', you're asking?
Well, we have two words for you — Tiger Woods.
That's right, the KIT simulator has a launch monitor that Tiger Woods personally uses and endorses. So, by purchasing this package, you know it's up to the finest professional standards of the sport.
So, what do you get?
The Full Swing Kit SIG10 package comes with the Full Swing Kit launch monitor and a SIG10 golf simulator enclosure. The radar tracking is 24GHz dual-mode, the camera is Full HD with a 60 fps refresh rate, and the screen is OLED Full HD.
As such, you're in for great precision that's on par with high-end simulators while costing significantly less.
There's also a landing turf along with your choice of hitting mat and a side barrier netting.
The included golf simulator projector is the Panasonic VMZ50U, which offers fantastic image quality and color. It comes with a ceiling mount to permanently keep the projector out of harm's way.
Additionally, you receive a charger, E6 Perpetual software, cables, and a travel case. We should mention the software plan is compatible with iOS devices only.
The recommended room dimensions to fit this simulator are 18 feet deep, 9 feet high, and 12 feet wide. This means you can set it up in most spaces.
Pros
Built according to Tiger Woods standards
Ball flight graphics are realistic and accurate
The course-playing experience is very immersive
Cons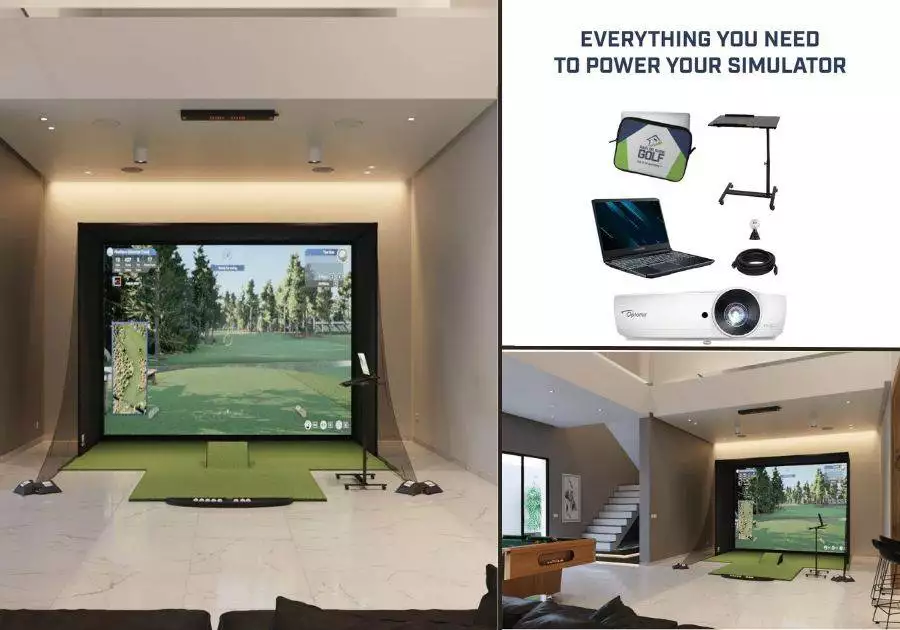 Well-received and widely used by avid golfers, the EYE XO SwingBay simulator offers a premium experience with exceptional reliability and accuracy.
The Uneekor EYE XO SwingBay package provides you with the powerful Uneekor EYE XO launch monitor and the impressive VIEW simulation software.
It can track more than 20 data parameters for shots up to 435 yards. It's also supported by a pair of high-speed cameras to record at a refresh rate of 3,000+ fps for real-time ball information.
The Optoma Full HD projector comes with a floor enclosure. It delivers a bright, vivid image thanks to its 4,000 Lumens, amazing contrast, and 1080p resolution.
So, what else do you get?
The box also comes with the durable SwingBay hitting screen/enclosure, a side netting, your choice of hitting mat, two 5 x 10 feet turf pads, adapters, a ball tray, and a handy Birtee.
If you want, Uneekor can also ship you a specialized gaming laptop for golf simulation along with a stand, a mousepad, and a laptop sleeve. Talk about an all-inclusive deal!
With all these features and functions, you shouldn't be surprised at the dent this unit will put in your wallet. It's definitely worth it though!
The recommended room dimensions to accommodate this Uneekor golf simulator are 16 feet deep, 9 feet high, and 12 feet wide. These measurements will ensure comfortable and safe swinging.
Pros
Fast, accurate, and detailed data
An extensive list of features
You can use it as a home theater
Cons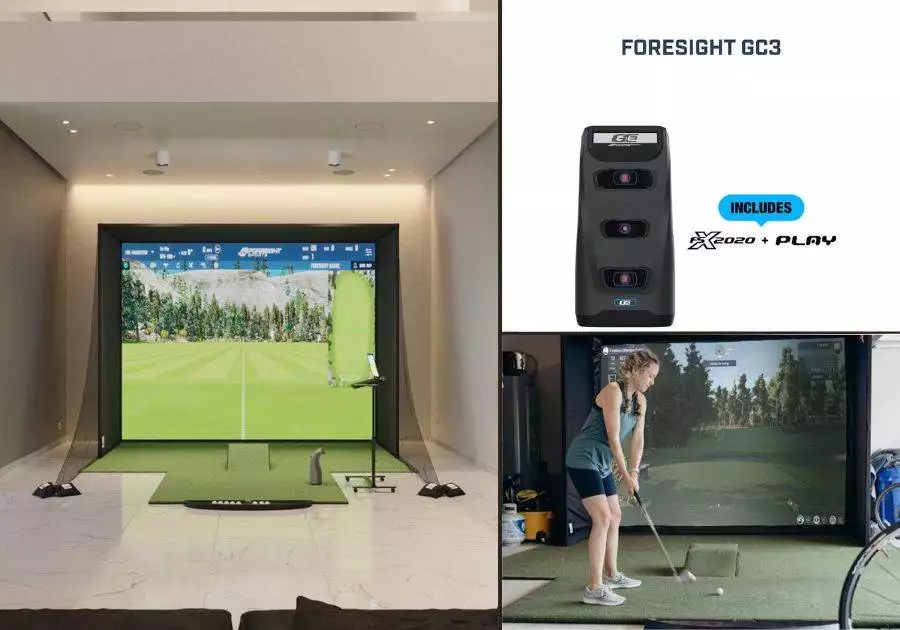 The GC3 golf simulator is the latest model, developed by Foresight Sports after more than 10 years from the GC2. In addition to being loaded with helpful features, its precision is worth praise.
Granted, not all of the metrics it tracks are cutting-edge, but it does more than enough for the average home golfer.
So, what do you get?
Included with the Foresight Sports GC3 package is the Foresight GC3 launch monitor. It carries three photometric cameras to track both shot and club metrics. Besides, you can use it outdoors if you want to.
The system adopts FSX Play software, the FSX 2020 software, and the FSX Pro software. Get ready for endless activities, modes, and courses to conquer!
What's more, you receive your choice of hitting mat, the SwingBay enclosure and screen, the SwingBay side barrier netting, a ball tray, and a Birtee set. The turf covering, however, is an optional extra and measures 5 x 10 feet.
As for the projector, this package comes with the Optoma EH412ST and the SwingShield floor enclosure. Its 4,000 Lumens promise a bright image and its high contrast makes for impressive detailing.
The minimum space dimensions required to accommodate this Uneekor golf simulator while ensuring comfortable and safe swinging are 16 feet long, 9 feet high (no less than 8 feet), and 12 feet wide.
Pros
Has a barometric sensor to boost accuracy
Setup is easy
Good portability
Cons
Putting analysis could improve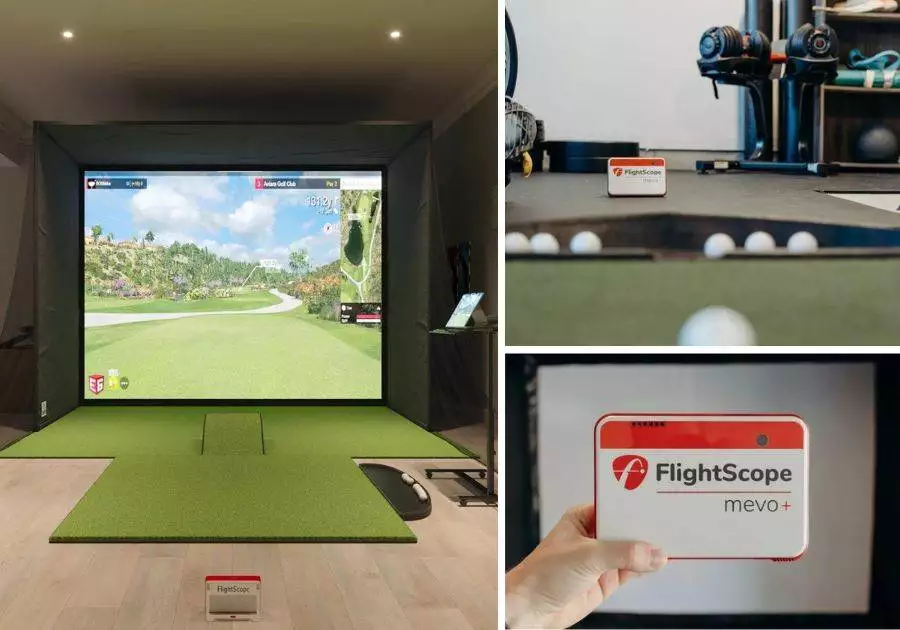 Next, we're looking at the Mevo Plus golf simulator by FlightScope. This is one of the more affordable packages on today's list.
It's a nice option for folks in need of a full-fledged simulator. We like how reliable and precise it operates.
So, what do you get here?
The Mevo Plus package includes pretty much everything you'd need.
For starters, it's equipped with the FlightScope Mevo Plus launch monitor. As such, it can capture 16 metrics, provide video analysis, and offer skills challenges to help you shoot lower scores.
There's also the FlightScope app and the long-lasting SwingBay hitting screen/enclosure. As for the Optoma projector, it delivers 3,000 Lumens of brightness for its 1080p image and ships with either a ceiling mount or a floor enclosure.
Along with a carrying case and a SwingBay side netting, you receive all the necessary adapters, a hitting mat, two 5 x 10 feet turf pads, a ball tray, and a Birtee set.
You also get a range of options to tweak this golf simulator setup according to your budget. You can choose between a gaming laptop or an iPad Pro to run either the TGC 2019 software or the E6 Connect software respectively.
The iPad/E6 setup is the more budget-friendly alternative if you want to save a few thousand bucks. But for the highest processing power and the largest list of courses, you'll need to pay extra and get the laptop/TGC setup.
Pros
Fantastic visuals
Expansive courses available
You can use it outdoors
Cons
Reading putts isn't great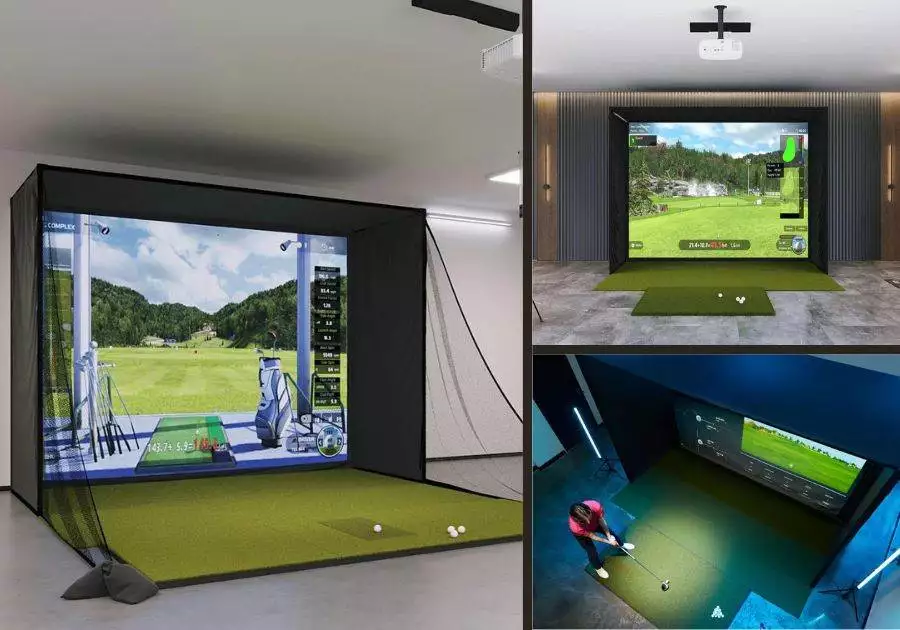 This is yet another excellent choice from Uneekor. This package is equipped with the QED launch monitor and an integrated ceiling mount.
Compared to the EYE XO, the QED is just as precise. However, it doesn't cost as much because it doesn't offer as many advanced features and calls for special golf balls to use.
The QED has two hyperspeed cameras that record at over 3,000 fps. It offers real-time analysis for shots up to 435 yards.
So, what else do you get?
You also receive the QED Ignite simulation software with the Uneekor Optix playback technology, a swing motion analysis tool, a 3D driving range, and fitting data.
If that's not enough to handle your game, feel free to upgrade to the QED Refine (5 courses and Challenge mode) or the ultimate QED Refine plus for additional courses (15), modes (Quick Start), and features.
What's more, the Uneekor QED package includes a premium Panasonic PT-VZ580U projector with 5,000 Lumens of brightness. It also offers a SIG10 enclosure, a landing turf, a side barrier netting, and your choice of hitting mat size/brand.
You don't have to worry if you don't have the required golf balls on hand. For extra convenience, this package gives you 24 Bridgestone-marked balls so you can dive right into the action!
The recommended space dimensions required to accommodate this Uneekor golf simulator are 18 feet deep, 9 feet high, and 12 feet wide.
Pros
Ultra-precise sensors
Very bright visuals and enhanced graphics
Comes with two dozen marked balls
Cons
Required special golf balls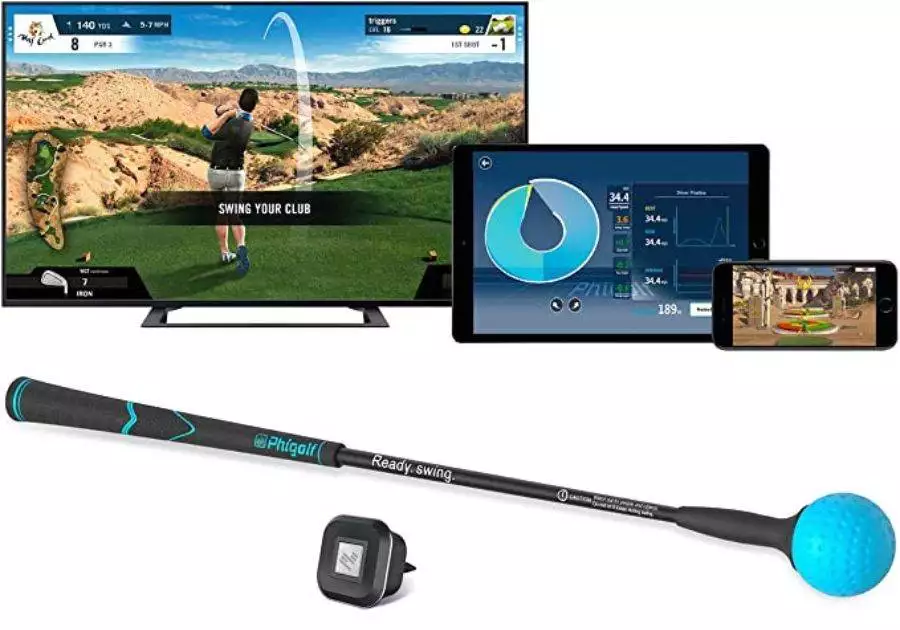 If you're looking for maximum portability and affordability, allow us to introduce you to your new best friend: The PHIGolf smart simulator.
Its mechanism depends on the included 9-Axis PHIGolf club sensor. All you need to do is attach the sensor to the club you want to swing, although it's recommended that you use the provided club.
From there, you'll connect the sensor to your preferred software via Bluetooth (it's compatible with the PHIGolf app, E6 Connect, and WGT).
Finally, you'll rotate the club with the sensor to complete the synchronization process.
You can cast the display on your mobile app or TV. The simulator monitors shot data such as distance, speed, face angle, swing temp, and attack tempo.
So, what else does this package include?
With the PHIGolf sensor, you receive a 4-inch swing stick, a rechargeable battery, and full access to the PHIGolf app.
Pros
The setup is super easy
Doesn't take up any extra room than what's available
Very affordable compared to full-blown simulator setups
Cons
Doesn't provide great graphics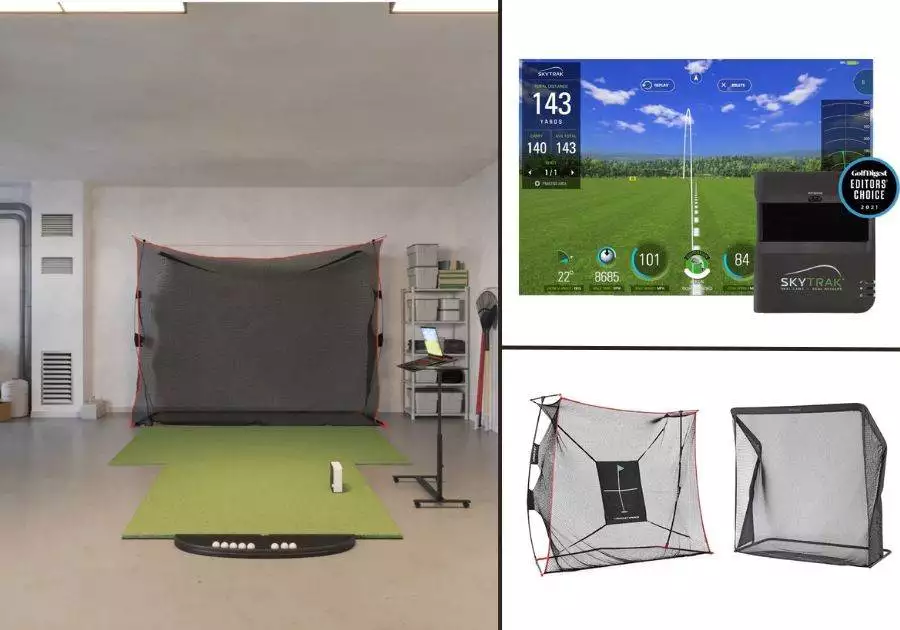 If you really want the indoor golfing experience but your budget is on the lower side, you may want to consider the SkyTrak practice simulator.
It doesn't take up much room. Not to mention, it's easy to set up and move around as needed.
So, what do you get?
The SkyTrak Practice package comes with just about everything you need to boost your golf skills. You receive the SkyTrak launch monitor along with the SkyTrak app and the SkyTrak Game Improvement plan.
For the golf net, you can choose either the Rukket Sports Premium or the Net Return Pro. While the former is great for golfers on a tighter budget, the latter is simply one of the best-performing options out there.
Not only is the Net Return Pro spacious with dimensions 8' W x 7.5' H x 3.5' D, but it's also very long-lasting and features automatic ball return. It can even support shot speeds up to 225 mph.
Additionally, the SkyTrak Practice package includes the SwingTurf hitting mat, a 5' x 8' turf pad, a ball tray, and a BirTee set.
For some extra funds, you can add a tech bundle consisting of a high-powered gaming laptop to effectively process all your course-play and long-range sessions.
SkyTrak will even throw in a laptop stand, sleeve, and mousepad to complete your setup.
Pros
Lowest price on the list for a full simulator
Comes with a premium-quality hitting net
Very portable and simple to set up
Offers Game Improvement software plan
Cons
There's no visual immersion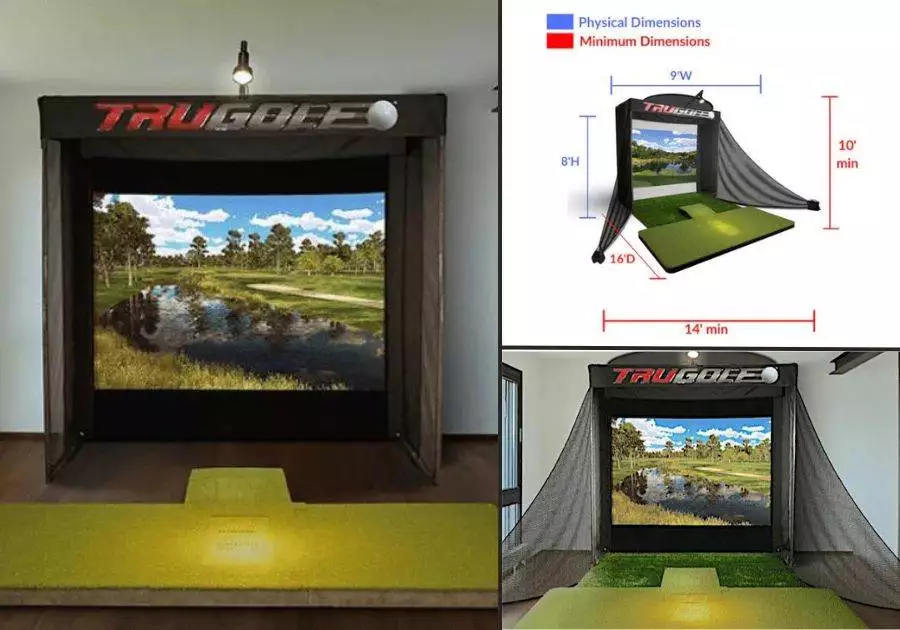 Offering loads of functionality and a highly convenient operation, the Vista 8 simulator by TruGolf is an outstanding option for golfers on a medium budget looking for a big performance.
Among the reputable Vista line, this is the most affordable and compact.
So, what does it bring to the table?
Included with the Base version of the TruGolf Vista 8 package are a 720p HD projector, a 116-inch Impact screen, a turf pad, a full enclosure/frame, and an overhead light bar.
You also receive the TruTrack2 system that uses a set of optical sensors to capture critical shot data such as the launch angle, spin, distance, deviation, club face angle, club path, ball speed, and club head speed.
What's more, the Vista 8 Base package offers a 1-year subscription to  E6 Connect so you can practice, compete against other golfers, and play multiplayer games with up to 8 friends.
If you're interested in even more features and add-ons, you can choose the Pro version of the Vista 8. It comes with a 21-inch touchscreen, Fairway mats, a level 1 TruGolf computer, and more.
Although the Vista 8 home golf simulators aren't as expensive as some of the candidates on the list, they aren't cheap either. To give you peace of mind, TruGolf backs up these simulator packages with a 1-year warranty.
The minimum recommended space dimensions required to accommodate this TruGolf golf simulator are 16 feet deep, 10 feet high, and 14 feet wide.
Pros
Advanced tension system
Practically no ball delay
Swing analysis is excellent
Cons
It takes up more room than some of the competitors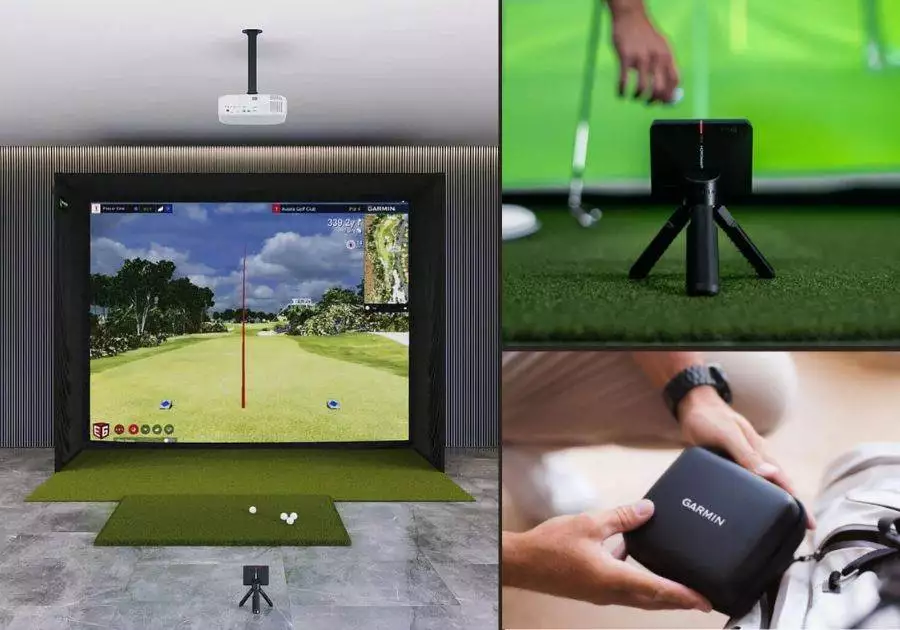 From the reliable Garmin, we're looking at the well-received Approach R10 golf simulator. It's not as expensive as other models, yet it still delivers an impressive performance.
This Garmin Approach package includes the R10 launch monitor that tracks more than 12 different performance metrics to sharpen your skills with every session.
You can access over 42,000 courses (subscription required) and save/ share your data. Its rechargeable battery supports up to 10 hours of continuous use.
We particularly like the Automatic Video Recording feature that captures your swing and supply stats instantly. You can even add swing adjustments and view their effect on your performance.
So, what else do you get?
You also receive an IOS-compatible trimmed version of E6 Connect, the Panasonic PT-VZ580U projector with ceiling mount, and the SIG10 enclosure/screen.
Additionally, you can enjoy your choice of Fairway or SIGPRO mats in various sizes along with the professional yet convenient SIG10 simulator flooring.
This package also offers a landing turf, a side barrier netting, a phone mount, a tripod stand, a carry case, and all the necessary adapters/cables.
As with all SIG10 enclosures, you need a room with at least 18 feet of length, 12 feet of width, and 9 feet of height to accommodate this Garmin golf simulator at home.
Pros
Features automatic video recording
5,000 Lumens of brightness
Great value for money
Cons
E6 Connect software is compatible with iOS devices only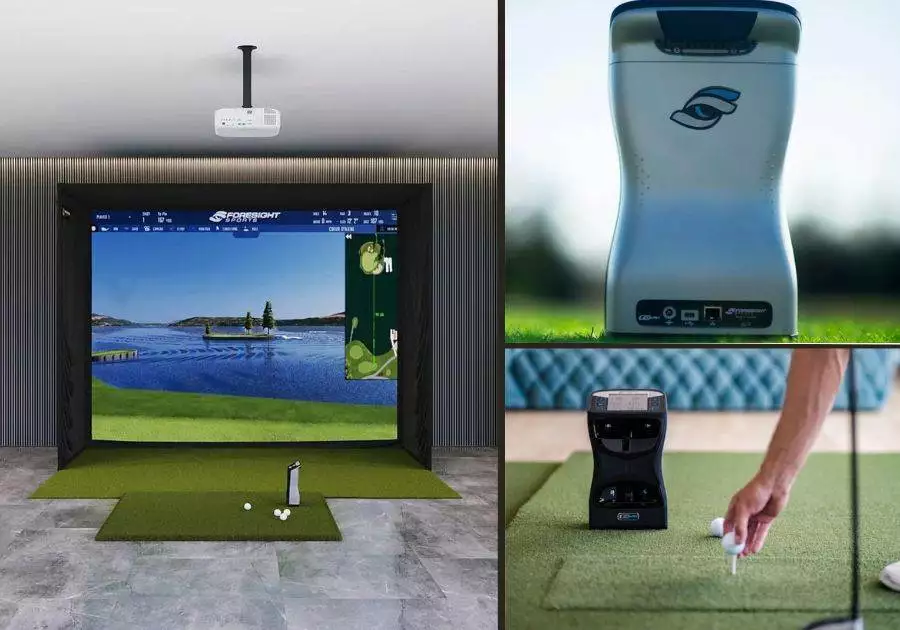 Last but not least, we have one more option from Foresight Sports: The GCQuad SIG10. One look at its price tag and you can easily tell that it's the most expensive golf simulation system on today's list.
But with a great cost, comes a massive load of impressive features.
So, what exactly do you get?
Well, for starters, the GCQuad SIG10 package includes the award-winning (Golf Digest Editors' Choice Award) GCQuad launch monitor made by the leading Foresight Sports.
Relying on a four-camera system that snaps thousands of images each second, it can reproduce reliable data for metrics such as spin, ball speed, launch angles, carry distance, and side spin.
Additionally, if you're after club head analysis, you can choose to include the optional GCQuad add-on that allows tracking of club head speed, smash factor, club path, impact location, attack angle, and more.
This package also arrives with a Panasonic PT-VZ580U (WUXGA resolution) projector with a ceiling mount, the SIG10 enclosure/screen, and FSX 2020 software.
With this software, you can access an ultra-realistic golfing experience and conquer exclusive courses to refine your swing stats and go head-to-head against players around the world.
The SIG10 simulator flooring is optional, but the hitting mat, alignment stick, adapter/cable, and landing turf are guaranteed to arrive.
Pros
Coach-approved analysis
High-speed image capturing
Measures a wide array of shot and club parameters
Cons
It costs more than any other candidate on our list
What To Consider Before Buying a Home Golf Simulator
When shopping for a reliable home golf simulator, you need to think about multiple aspects to ensure you make the right investment for your needs and budget.
After all, golf simulators come in various models and designs, none of which are cheap. Here's what we think are the most important features to consider in the best home golf simulator:
Space and Size
As you can probably tell by now, the size of the home golf simulator and the space it requires to properly function should be at the top priorities on your features list.
The general rule of thumb on the market is that the larger you want your simulation experience to be, the higher the price you'll have to pay for it.
Also, the bigger the simulator, the more space you'll need in your house to accommodate it.
This isn't just about the room the equipment will take up, but it also has to do with having enough space for you to comfortably swing your longest club without restrictions.
So, how can you make sure that the dedicated space at home is suitable for a particular simulator? It's easier than you think.
All you need to do is measure the length(depth), width, and height of the dedicated space. Then, compare those measurements against the minimum space requirements provided with the golf simulator.
Most home golf simulators call for at least 12 feet of depth, 10 feet of width, and 8 feet of ceiling height. Of course, the more space the better.
As such, many golfers set up their home simulators in their garages because of the extra space and being out of the way of their families' everyday activities.
Tracking System
The tracking system on a golf simulator is the component responsible for measuring metrics and recording data related to your swing, ball, and club.
This aspect of the simulator is particularly important if you value game improvement more than entertainment.
There are various tracking systems available on the market that use different technologies to track your data.
For example, your home golf simulator can carry a SkyTrak, Approach R10, Mevo Plus, GCQuad, TruTrack, Uneekor EYE XO, GC3, Optishot, or another tracking system.
These systems may be radar-oriented, stereoscopic, photometric (optical), infrared, or something else. Each of these technologies refers to the mechanism with which sensors capture your metrics data.
Some technologies are better than others, which in turn, makes some systems superior to others when it comes to accuracy and reliability.
The tracking mechanism also determines how fast ball flight information displays on the computer/tablet after the ball hits the screen. This is called lag time, and the shorter it is the better the system.
The two most common technologies you'll come across when looking at home golf simulators are radar and photometry.
Optic or photometric tracking is overall more accurate than radar tracking in indoor conditions like inside a house.
However, radar-based sensors are the winners outdoors despite requiring a lot of space around the user.
The rule of thumb is: the higher the price of a golf simulator, the better its tracking system.
The Optishot 2, for example, is a cheaper tracking system. While it's pretty fun to use, the infrared mechanism needs very specific lighting and doesn't capture club data well enough.
Similarly, the SLX MicroSim is quite affordable but its motion sensor produces less accurate and less detailed metrics data compared to more expensive models such as the SkyTrak.
Although the SkyTrak can have a few seconds of ball delay, it's not at all problematic for most users.
If you want a tracking system with absolutely no shot delay, we don't believe such a simulator exists. However, we do like the Vista and the EYE XO with virtually non-existent ball delay.
Portability
Next, you should think about the portability of your golf simulator. Can you easily pack it up and take it wherever you go?
The answer to this question will prove to be vital when you're planning to travel and want your golfing experience to tag along.
Another scenario where a portable simulator is an advantage is if you plan on packing it away during certain periods. For example, in the summer months when you can visit actual courses instead.
Portability isn't only important in case you're leaving the house, but also if you don't have a dedicated space for the simulator and will probably need to move it from time to time.
To boost the portability of your home golf simulator, look for units with supportive features such as freestanding launch monitors, mobile pads, retractable screens, and carry cases.
Keep in mind that launch monitors with under-floor or ground-based sensors aren't portable, nor are ceiling-mounted units.
So if you buy something like the SkyTrak SIG10 or Uneekor EYE XO, it'll stay right where you place it.
Screen setups are also not portable as compared to net systems that you can simply take down and install again.
Software
The software adopted by your home golf simulator plays the biggest role in determining the things you can do and games/activities you can participate in while using the setup.
Are you looking to play mainly for fun? Do you need a more serious experience? Are you looking to train or conquer championship-level courses? Do you want a child-friendly experience?
This is why many software options exist on the market to cater to different needs. Here's a breakdown of the most common ones:
SkyTrak
This manufacturer offers software capabilities depending on your subscription level. The basic package lets you practice shots on a driving range.
It's topped by the Game Improvement package that grants you access to competitions (such as closest to the pin and long drive), numeric displays, minigames, and a bunch of the latest features.
SkyTrak's Play & Improve software plan is the highest tier, offering all the features of the other packages as well as full access to WGT Play. This enables you to play world golf tour courses.
E6 Connect
This is probably the most well-known software in the world of golf simulators.
The high-quality E6 Connect offers plenty of customization options with a massive range of minigames, tournaments, courses, and practice aids.
Not to mention, E6 Connect is compatible with just about every major golf simulator system.
TruGolf's Vista, for example, can run E6 Connect on all of its versions. Also, the Full Swing Kit supports E6 Connect only on its iOS version with thousands of playable courses depending on your plan.
Another example is the Mevo Plus which supports a trimmed edition of the E6 Connect software. It gives you access to a decent selection of games and courses.
Uneekor
This company developed its own software for its golf simulators. Uneekor also made it available in 3 membership levels: Ignite, Refine, and Refine Plus.
This software may not be as famous as others out there, but it's very impressive with its wide selection of practice modes, game modes, course modes, 3D driving ranges, and more features.
The Golf Club
This software supports a 4K resolution display and provides golfers with lots of courses, tournaments, and live tours. Additionally, it features a tool that lets you design custom golf courses.
Other Options
Software such as Awesome Golf and Creative Golf 3D are more kid-oriented with fun and interesting minigames. They also include typical courses.
The FSX software by GCQuad focuses on challenging your skills and lets you play various world-class courses.
More examples include ProTee Golf, Fitness Gold, Jack Nicklaus Perfect Golf, and GSPro.
Screen vs Net
Deciding between a screen or a net for your home golf simulator is a tough but essential choice that you're bound to face.
If you opt for a screen, you'll also receive a projector. This allows you to view your shots and the movement of the ball on a virtual course or driving range.
The screen option is more realistic, but it's also more expensive. In addition to containing costly electronic components, you'll need to connect your launch monitor to a laptop or tablet that supports special visual simulation software.
What's more, a screen setup also needs side nets or walls. You attach these to your screen directly to catch balls and avoid damaging items around your house.
That said, if you're aiming for the most immersive golf experience that closely simulates the real thing, then a screen is indispensable.
If you go for a net, you'll simply hit to send your shot into the net. There won't be a display of the ball across a course or range, but you'll still get swing data -including ball flight- on the connected processing unit (laptop or tablet).
If you're trying to save some money, a net makes more sense. Not to mention, some net models are equipped with plug-ins that let you connect them to a TV, computer, or iPad and have the device's screen serve as a simulation viewing screen.
Also, if your main goal is to sharpen your skills, you can argue that you only need the data from the net to help you advance. In this case, a screen is dispensable, but that's up to you.
Ball Type
Another point you may not want to overlook is the type of golf ball that the simulator supports. By golf ball type, we're not talking about the brand or manufacturer, but rather practice vs real golf balls.
You see, not all home golf simulator setups are designed to "read" players' hits of real gold balls. Instead, they're only equipment to support hitting practice golf balls.
This particular feature depends on your preferences. If you want to mimic the conditions of playing outdoors as realistically as possible, then you need a simulator that lets you use real balls.
Price
Last but not least, you should think about the budget you're planning to spend on your home golf simulator.
As you can tell, golf simulators don't come cheap. Good quality models can easily end up costing you more than 10,000 dollars.
Even ones that are categorized as affordable can set you back several thousand dollars.
What's important to keep in mind here is that there are options available across various price points. We did our best to provide home golf simulators to fit a wide range of budgets.
That said, you need to be aware that the less you spend on a golf simulator, the fewer features and lower performance you'll get.
Remember, some sellers offer installment alternatives so you can pay over a certain period if you don't have the funds to pay the full price upfront.
Is It Different From a Launch Monitor?
Yes, you're right. This isn't a feature or a technical specification that you need to look out for, but it's an important aspect nonetheless.
The difference between a home golf simulator and a launch monitor is important to understand, especially since the topic can get confusing for beginners or first-time buyers.
An indoor golf simulator for home use is all about providing you with both the visual and practical elements necessary to create a full golfing experience.
Its grand purpose is to make you feel as if you were playing a course or practicing shots anyway in the world, only you're right at home.
A launch monitor is designed to give you information related to your swing and shot stats. This helps you learn more about your skills as you work to improve them.
So if a home golf simulator isn't the same thing as a launch monitor, then what's the relationship between the two?
Well, a launch monitor is a main part of any gold simulation package because it's the component responsible for delivering performance data. These include ball speed, distance, spin, deviation, launch angle, and apex.
Does this mean you can't use a golf simulator without a launch monitor or the other way around?
Not exactly.
You can use a golf simulator without a launch monitor, but you won't get the necessary performance data. You'll just be making shots and viewing its movement via a projected image.
Similarly, you can use a launch monitor alone, but you'll only receive performance data. You won't play a virtual course as the device doesn't show any visual elements.
Final Thoughts
As you can tell by now, choosing a golf simulator for your home can be a confusing task.
Besides considering technical and practical features such as tracking, software, and portability, you also need to think about your budget.
Hopefully, our reviews of the 11 best home golf simulators and comprehensive buying guide will put you on the right track.