There are few things more frustrating for a beginner golfer than when they know the right technique but can't execute it properly.
When you're just starting out, there's no substitute for lots of repetition on the golf course. But what do you do if you don't have access to a golf course?
The answer is simple: go to the driving range. Pick up a bucket of golf balls and start practicing.
The driving range is a great place to work on your swing and get comfortable with the motion.
But how often should you go to the driving range as a beginner?
Why is the Driving Range Important in Your Golf Practice?
A driving range often referred to simply as a "range", is a facility where golfers can practice their swing. Ranges are usually equipped with hitting mats or tees and multiple targets such as greens, bunkers, and flagsticks. They may also have a pro shop, snack bar, and restrooms.
I find it really helpful to go to the driving range on a regular basis, especially after I had a lesson. The driving range is a great place to work on your swing and get comfortable with the motion without having to worry about playing a round of golf or hitting different types of holes. 
Range time has helped me improve my swing technique and keep my muscles memory fresh. It's also a great way to get comfortable with the motion of swinging a golf club.
As a beginner, you should go to the driving range frequently. The more time you spend practicing your swing, the better you'll become. You can also work on your short game at the driving range.
Picking up a bucket of golf balls is an inexpensive way to improve your game.
How Often Should I Hit the Driving Range?
Visiting the driving range once a week is a great addition to playing on the course and golf lessons with your golf professional. It will help you to fine-tune your swing and improve your game.
If you're looking for a more intensive practice regimen, consider hitting the range two or three times per week. This way you can really break down your swing and work on correcting any flaws.
If you're looking to get more serious about the game, consider practicing at least twice per week.
Just make sure that you are also playing rounds of golf so that you can put what you're practicing into action.
Is the Driving Range a Good Workout?
Believe it or not, the driving range can be a great workout. I personally like driving range because not only you get to practice and work on your golf techniques, but you also get time to speak with other people who are as passionate about golf as you!
Most of the driving ranges are equipped with golf simulators which allow you to play different golf courses. This is extremely helpful because it gives you the opportunity to try most of your favourite courses without having to pay for it.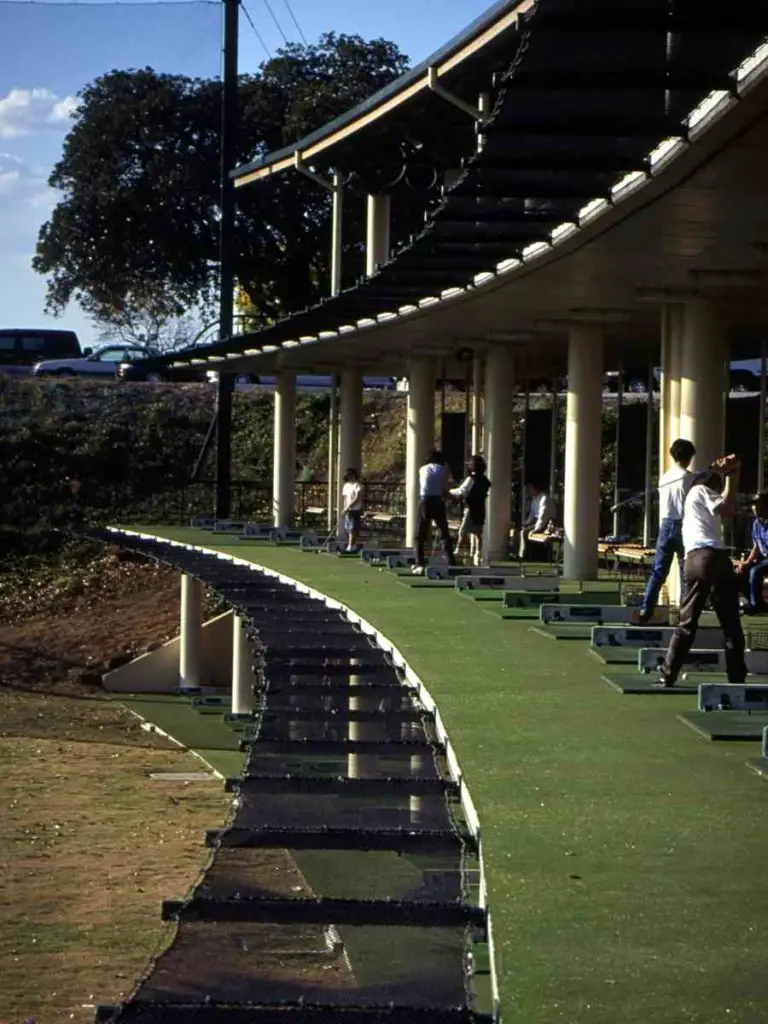 The Top Tracer technology can track your shots and show you a detailed analysis of your performance. If golf is not just a sport for you but also a hobby, then the driving range can be an amazing place to spend time with friends while having fun!
There is always plenty of room for improvement and the driving range is a great place to work on your skills.
I personally like driving ranges because of their convenience and ease of access. There are many different types of ranges that you can choose from: outdoor, indoor, covered or open air.
The choice completely depends on your preferences and lifestyle! You don't need to worry about bad weather conditions because most ranges are covered and you can always find an open range when the weather is good.
How do I Maximize my Driving Range Time?
This question comes up a lot for beginner golfers. And the answer, like most things in golf, is it depends.
But let's start with some general golf driving range tips to help you make the most of your time at the range.
Step 1
First, work on your fundamentals. This means making sure your swing is consistent and that you're using the same grip, stance, and ball position for each shot.
Step 2
Second, work on your game. Instead of just wasting balls at the driving range (or worse yet getting frustrated), focus on what you're doing wrong in a particular round or hole.
For example, if you struggle with hitting left to right shots, do some concentrated practice using those types of swings.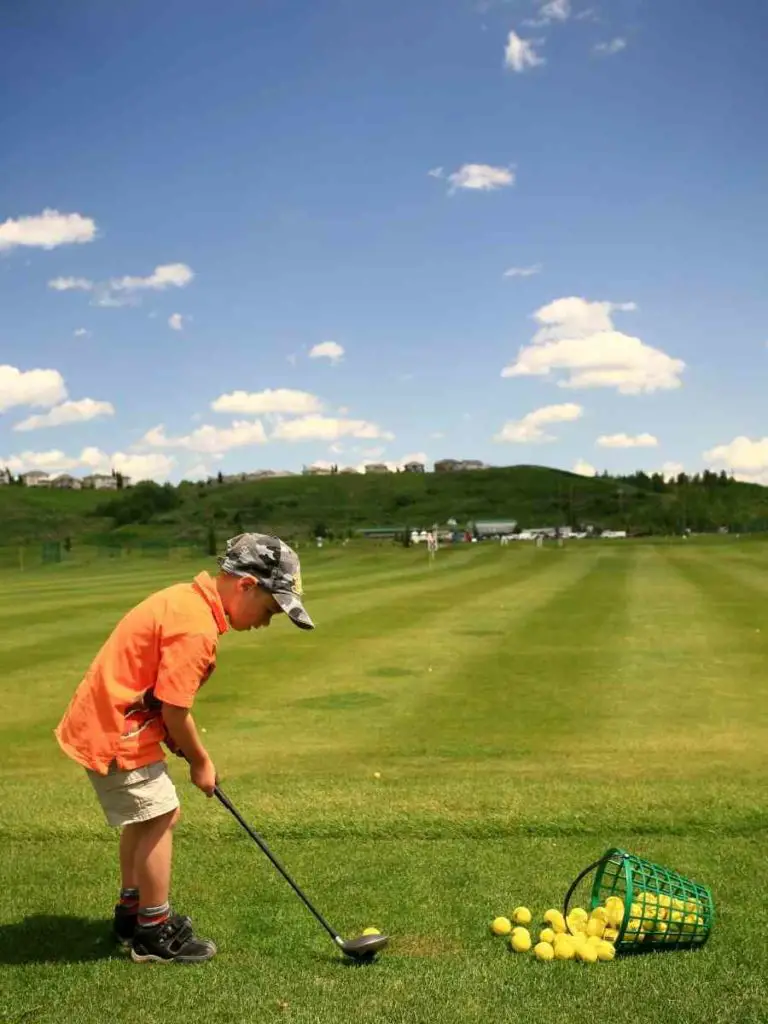 Step 3
Third, have a plan. Don't just show up at the range and start pounding balls. Figure out what you want to work on that day and make a game plan. This will help you stay focused and get the most out of your practice time.
Step 4
Fourth, take notes. When you're done practicing, take some time to write down what you were working on and how it went.
This will help reinforce the lessons in your mind, make it easier to track progress over time and provide a roadmap for future practice sessions.
Step 5
Finally, set realistic goals. If you're hitting balls at a range with other people waiting their turn, don't expect miracles from yourself. Give yourself time to work on your game and don't be afraid of making mistakes.
These tips for the driving range helped me improve my game and I can already see that I am more focused on the golf course and hitting better shots under pressure.
Related Articles:
Golf Clubs for Beginners: What Do I Need in My Bag?
How to Get Better at Golf: The Best Tips and Tricks for your Golf Game
Golf Club Fitting: What Every Beginner Needs to Know
Golf Tips: Which Ones Should You Listen To?
How Changing Your Habits Can Improve Your Golf Game
How Long Should you Spend at the Driving Range?
There is no definitive answer, but most beginner golfers should aim to spend at least an hour per session at the range. This will give you plenty of time to work on your swing and experiment with different techniques. If you're having trouble with a particular shot, take some extra time to practice that specific motion.
The driving range can be a great place to work on your game without the pressure of a tournament. I usually spend around two hours at the range when I'm practicing.
That gives me plenty of time to work on all aspects of my game. If you're short on time, try breaking up your practice into shorter sessions throughout the day.
The important thing is to be consistent and make sure you're putting in the effort to improve your swing. However, you shouldn't spend all day at the range getting frustrated if it's not going well.
If you only have an hour or two per week for golf, consider spending that time outdoors rather than hitting bucket after bucket of balls indoors. It may be more frustrating in the short term but you'll learn more in the long run.
Conclusion
In the end, it's important to remember that golf is a sport of patience and persistence.
You'll work hard on your swing at the driving range-don't be afraid to make mistakes or experiment with new techniques. And just like in life, you can never succeed without taking risks.
With a little bit of practice and hard work, you'll be on your way to improving your golf game!
FAQ's
What is a Driving Range?
A driving range is a facility where golfers can practice their swing. It's typically an area of a golf course that has been sectioned off and is filled with tee boxes, hitting mats, and target greens. Golfers can purchase buckets of balls to hit, or they can bring their own clubs and use the range facilities for free.
When Should I Start Going to the Driving Range as a Beginner Golfer?
Once you have had a few lessons with a Golf Pro and have a good understanding of the basic techniques it is recommended to go to the driving range. It can also be helpful to watch some golf videos on youtube or other sites to see how the professionals do it.
What is an Average Range Session Like?
The average range session should start with short irons, moving to longer clubs as they become more comfortable and you should alternate between long and short clubs as you would play on the golf course.
How Many Golf Balls Should I Hit a Day?
The reasonable amount of golf balls you should hit per session is between 50 and 100 balls. You must remember that it is not about the number of golf balls you hit at the range but the structure of your training session is extremely important. Always make sure that you are hitting the ball properly and not swinging too hard or for a long time as this can cause muscle aches and pains.
Should I Go to the Driving Range Before Playing Golf?
If the time allows you to go to the driving range just before you go play a round of golf, then it's an excellent way to warm up. When possible I try to hit 20 to 30 balls before walking to the first tee.